21st Century Skills for Teens
Pinnacle Education offers Face to Face & Online Sessions in Dubai (UAE)
In this globally and digitally interconnected world, all learners, from cradle to career, need new skills and knowledge to succeed. If we want to prepare our youth for success in school, work and life, opportunities to learn 21st century skills are essential.
They not only provide a framework for successful learning in the classroom, but ensure students can thrive in a world where change is constant and learning never stops. And they are also tremendously important for our nation's well-being.
Our business community demands a workforce with these skills to ensure our competitiveness in a global economy. At times when our civic life feels strained, we want our learners to enter the world with an understanding of what it takes to be a good citizen—one who is a self-directed learner, an innovator, financially & economically literate, information and media literate, globally aware, civically engaged, a communicator, a problem solver, a collaborator and a critical thinker.
ENQUIRE NOW
For more details on the availability of our Training Program
Program Objectives:
On completion of this Program; participants will be able to:
Understand and Identify their personal assets and values

Build and enhance their self confidence

Define leadership qualities and styles

Develop the essential interpersonal skills

Communication skills

Active listening

Problem solving & Decision making
Conflict resolution

Goal setting

Team dynamics & team building

Presentation skills

Define their personal and group goals

Develop an action plan on how to apply the leadership skills learnt throughout the program in helping their community
Who Should Attend?
High School Graduates

University Students

Working Professionals

All Future leaders.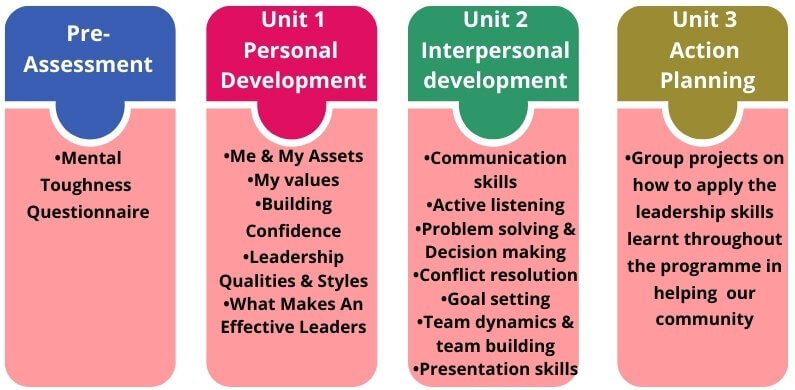 A contest will be held at the end of the Program, where the participants will present their projects in front of the external jury on how to use their leadership skills to help the community. During this process, the panel of judges will review the projects presented and will evaluate each proposal based on three main categories:
1. Originality: the specialty and value of their project ideas
2. Team work: the ability of the participants to work well in a teams and contribute equally.
3. Presentation: the confidence, communication skills and the quality of materials presented. Prizes will be awarded for the best ideas.
Interactive Lectures

Exercises; games & Quizzes.

Presentation

Videos & Role pays

Discussion

Question and Answer

3-4 days for aided contest preparation:
Four Case Studies

Change Management
Innovation Building
Barriers to Innovation
Communication challenges

Individual & group response evaluation
Training course Schedules
| | |
| --- | --- |
| Age | There are no age criteria. |
| Duration | 20 hours |
| Timing | 10:00 am to 12:00pm / 4:00 pm to 6:00pm (Online / In-site Flexible slots are also available) |
| Days | Weekdays / Weekends |
| Medium of instruction | English |
| Registration Requirements | A valid Passport copy / national ID card |
| Teachers/Students Ratio | 1:5 |