Leadership Training Course in Dubai
PINNACLE Education offers Face to Face & Online Sessions in Dubai (UAE)
Innovative management and creative leadership are widely accepted as important success factors for both companies and individuals. Additionally, they are competencies that can be built and harnessed by everyone in any company with the right nurturing atmosphere and support. In this course, you'll learn how to cultivate those skills in yourself while also encouraging others to do so. It will also discuss individual challenges and goals in this area. More importantly, the course's final goal is to provide you with customized solutions that work for you and aids modern leaders and trains them on resilience and adaptability during tough times.
This leadership training course looks at the fundamental abilities of leadership and how to use them within an organization. The program examines managing oneself as a leader, leading a team, breaking new ground through inventive leadership, effectively communicating with others, and teaching leadership values to your team members using this first analysis. All attendees will go back to their organizations better prepared to handle the demands and challenges of leadership. This advanced leadership training course is exciting, fast-paced, and packed with valuable information. It aims to advance your leadership abilities on a personal, team, and organizational level.
At PINNACLE, you will learn how to recognize your own leadership style and that of others, as well as practical leadership skills for leading others. You will also learn how to provide your team members with timely and helpful feedback. You will also learn how to lead your organization to greater heights through innovative and creative ideas. This Leadership Masterclass training course uses case studies, interactive and engaging exercises, video clips, and real-world examples from world-class practices in leadership excellence.
For more details on the availability of our Training Program
What will you achieve?
By the end of the course, you will be able to:
Explain the connection between good leadership and creativity and innovation.
Implement self-awareness methods in preparing for unleashing the natural creative inclination.
Teach, advise and assist others in developing the needed self-awareness for creativity.
Create the right environment that fosters creativity and innovation in others.
Who is this course for?
Individuals who wish to embrace a more creative approach at work, whether to solve issues, think of new initiatives or establish and introduce changes.

Middle and Senior Leaders who want to find a more authentic style
Team leaders, Mentors, Project Leaders, Coaches, Supervisors and Managers who need to communicate with their reports in more effective ways
Professionals who wish to transform their way of working to a more leader based ideal; empowering to gain greater performance
Aspiring leaders wishing to understand the next level and the change from Management to Leadership
The course will also help anyone interested in identifying and growing their own or a group's creative capability
Pre-requisites:
Two years of experience in working as a team lead is prefered. To inspire your coworkers and colleagues to achieve their goals, you will always require a combination of soft and hard qualities known as decisive leadership.


 
Course Outline:
Managing Myself as a Leader
·        Importance of Perception
·        Intrapersonal & Interpersonal Skills For The Leader
·        Your Preferred Behavioral Style
·        Understanding The Model For Leadership
·        Removing Emotional Blind-Spots
Leading a Team
·        Dealing with Others
·        Understanding The Stages of Human Development
·        Optimizing The Leader's Natural Strengths
·        Understanding Team Processes
·        Building Effective Teams
Innovative Leadership
·        Openness to Innovative Ideas
·        Divergent Thinking Skills
·        Removing Blocks to Creativity
·        Understanding The Creative Process
·        Metaphors and Analogies For Innovative Thinking
Communication For Leaders
·        The Positive Influence of Listening
·        Sharpening Your Listening Skills
·        Body Language
·        Inspiring and Guiding Others
·        Handling Stress Appropriately
 Imparting Leadership Values
·        Leading by Example
·        Resilience For Sacrificial Leadership
·        Intentionality For Self-Motivation
·        Interpersonal Connections For Persuasive Leadership
·        Integrity For Accountable Leadership
 Leadership Training course Details
| | |
| --- | --- |
| Duration | 18 hours |
| Timing | Flexible slots are available |
| Language | English |
| Location | Face to Face at PINNACLE premises in Dubai /LIVE Online |
| Certificates | PINNACLE Professional Certificate of Completion , KHDA Certificate |
Leadership Training Certification
PINNACLE Innovation and Education is approved by the Knowledge & Human Development Authority (KHDA), Dubai. All of our courses and trainings have undergone the necessary certification process and are officially acknowledged and approved by the authority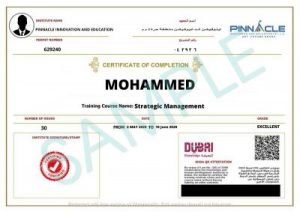 In-House and Live-Online  leadership Training Options
If you are interested in taking this training program for you and your colleagues in your organization, at your premises or at a venue of your choice or online, you can enquire now and we shall offer you customized and effective IN-HOUSE or LIVE
ONLINE training solutions to meet your training needs
Why choose PINNACLE for your  leadership Training?
Our expert trainers employ the most effective and up-to-date training techniques.
We employ research-based training programs with practical Training
Methodology and easy-to-understand approach that guarantees the delivery of extensive knowledge implementation over a short period of time.
After an initial analytical training consultation, we provide personalized training plans to clients for achieving their learning objectives.
We offer flexible face to face, online and blended mode of trainings
All our course materials are comprehensive and comprise of fundamental and systematic knowledge, practical studies and real-life applications.
Our conducive learning environment and utmost customer satisfaction approach makes every training program a memorable, enjoyable and rewarding learning experience for our clients.