Are you looking for IELTS Exam preparation? The IELTS exam (International English Language Testing System) is one of the standardized English tests you will have to take if you are planning to immigrate, work or study abroad in an English-speaking country. For the IELTS preparation course, Pinnacle Education offers you straightforward, easy to understand training methods with the latest practice material and sources available that ensure you achieve the band score you want. We conduct face-to-face as well as online classes for IELTS exam preparation. 
What is the IELTS exam?
The International English Language Testing System or IELTS is an internationally-recognized standardized test of English language proficiency for study, work, and migration. The IELTS exam score proves your proficiency level in English.
The content of the IELTS exam is developed by a global team of professionals. Intensive research is carried out to make certain that the test remains free from bias irrespective of gender, nationality, background, location, or lifestyle. The candidate's future plans determine whether he/she must opt for the IELTS Academic or General Training.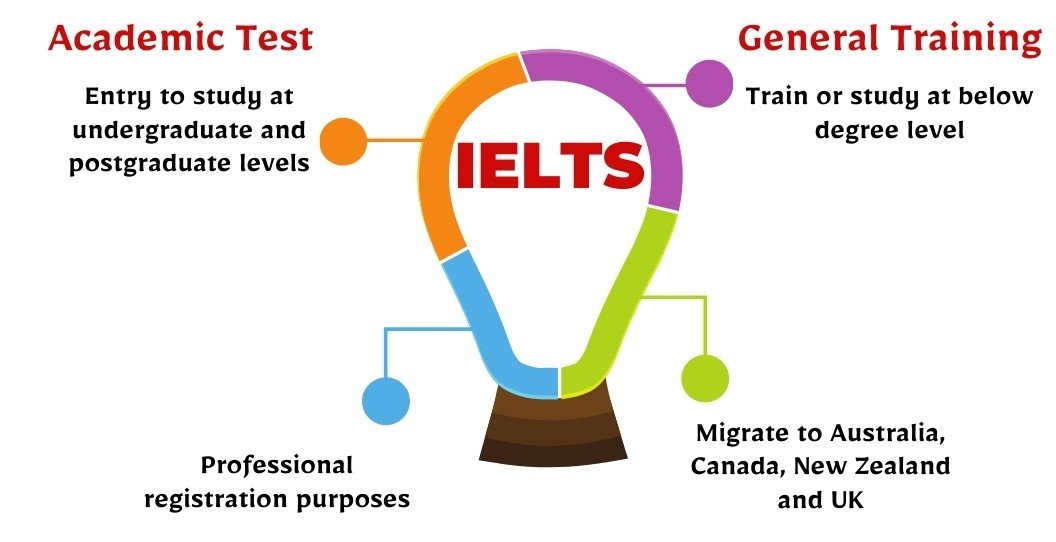 Here are five major reasons why the IELTS exam is highly beneficial –
● Language proficiency is a valuable advantage and your career success relies on your language skills to a great extent.
● A good IELTS score proves that you are skilled in much more than basic conversational English.
● Your IELTS result is an objective measure and an exact indication of your English language skills. However, should you get a low score, you have the option of retaking the test until you obtain your required score.
● A good IELTS score demonstrates your English proficiency in over 135 countries and over 9000 organizations around the world where you can be accepted
● Taking the IELTS Academic exam enables you to be skilled in speaking, reading, writing, and listening.
Eligibility criteria and prerequisites for the IELTS exam:
16 years of age and above

Valid passport of country of origin/country of residence

Plans to study in UK/USA/Canada/Australia/New Zealand

Plans to migrate to Canada/Australia/New Zealand

Basic knowledge of English grammar, business English and spoken skills are useful.
Why PINNACLE for IELTS Exam Preparation Course in Dubai, Abu Dhabi & Sharjah (UAE)?

PINNACLE offers an extensive General and Academic IELTS exam preparation for teachers and students in Dubai, Sharjah, Abu Dhabi UAE. Our course will enable you to acquire a comprehensive understanding of the structure of each section in the test. We understand your goals and we are here to help you achieve your desired score in the IELTS exam.
This course is suitable for first-time test-takers as well as those who are retaking the IELTS Academic or General exam to obtain a better score.
Why prepare for your IELTS exam at PINNACLE?
Blend of in-person and online sessions

Essential resources

Exclusive attention and assistance from professionally qualified trainers

In-depth training in each section of the test – Speaking, Listening, Reading and Writing

Useful tips on time management

Top-quality detailed study material

Sufficient practice tests
If you are interested in securing your ideal opportunity by taking the IELTS exam, join the PINNACLE learning community and begin your IELTS preparation today!
Batch Schedule
| | | |
| --- | --- | --- |
| Days | Time | Duration (hrs) |
| Sun/Tue/Thu | 7:00 pm to 09:00 pm | 2 |
| Mon/ Wed/Sat | 7:00 pm to 09:00 pm | 2 |
| Fri/Sat | 10:00 am to 1:00 pm | 3 |
| Fri/Sat | 2:00 pm to 5:00 pm | 3 |
Register Now For FREE IELTS  Assessment Test
What our clients say about us…
Learning Experience at PINNACLE is Awesome!
My experience with Pinnacle was good. All the staff were cooperative, specially Madam Humera she was great.
⭐⭐⭐⭐⭐
Google Review 5/5
PINNACLE is an Institute of Excellence
Institute of excellence. Instructor has good teaching skills and work hard with trainees. Just go and join pinnacle because they will diagnosis your level and then provide you training. Nice environment for learning having all stimulations for improvement. 
⭐⭐⭐⭐⭐
Google Review 5/5