Join Team PINNACLE, Live Your Passion!
Shine your career at PINNACLE! We work in a stress free environment to give our best in any given situation. If you are a professional with robust experience in training industry and are passionate about trainings and customer satisfaction, then get in touch with us at careers@pinnacleeducation.ae 

     Follow us on the LinkedIn page, pinnacledubai to view the latest updates on the available job openings.
We are looking for outstanding individuals with creative and innovative ideas to enhance the field of training… Connect with us right away to contribute more and become an integral part of our growing team.
---
BEWARE OF THE FRAUDULENT USE OF THE COMPANY NAME, LOGO, EMAIL ADDRESS AND JOB VACANCIES
other than from our official website and social media platforms.
---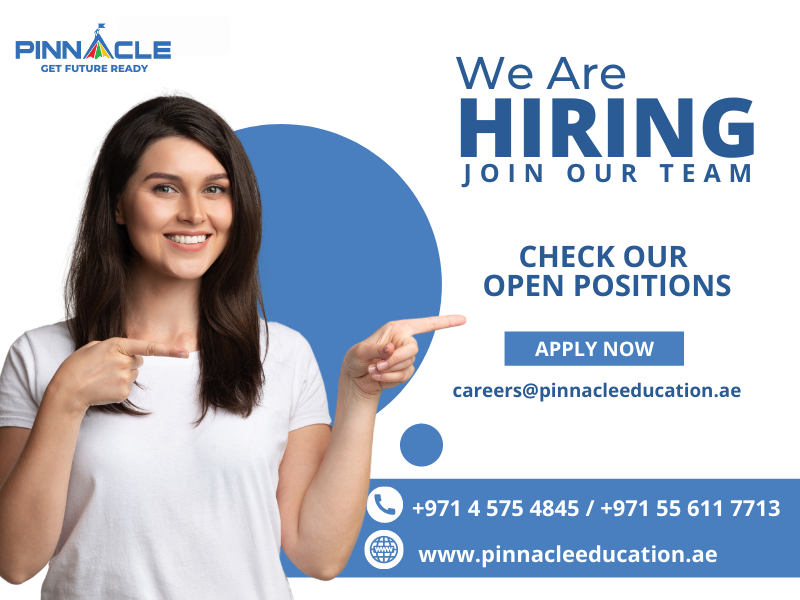 OPEN POSITIONS AT PINNACLE
Interested to work at PINNACLE? Check Our Available Job Openings
Team PINNACLE comprises of individuals who are passionate and  performance oriented. If you believe you can add value to our Team…JOIN US!
CORPORATE TRAINING OPORTUNITIES
We hire Corporate Trainers with expertise and exceptional talent in corporate training, consulting, business development and business support.
Do you have knowledge but lack experience in your field? Join our Team to learn  skills required to succeed in UAE