Revit  Architecture Training Course in Dubai
PINNACLE Education offers Face to Face & Online Sessions in Dubai (UAE)
BIM (Building Information Modeling) from Autodesk Revit Architecture is the latest high engineering that brings architects and developers together. PINNACLE offers the best Revit Architecture Training in Dubai for those looking to advance their careers and take them to the next stage, from concept to completion.Firstly, Revit Architecture provides a one-of-a-kind opportunity to concentrate on the most important aspect of building design: the creative aspect. Secondly, you'll be able to work with the model in any useful representation, make changes quickly and easily, and plan working drawings based on 3D models. Thirdly, three-dimensional views will give you a visual representation of the consumer.
For more details on the availability of our Training Program
Moreover, with our Revit Architecture training, you'll become a design and construction expert who can apply the most up-to-date design ideas to construction using a clear model-based approach. In addition, our consultants work tirelessly to make positive improvements to the training, and this course, when properly taught to students and professionals, will yield positive results.
Our course will
Assist you in knowing how to create high-quality and accurate designs of architecture
Utilize tools specifically built to support BIM workflows
Help you in figuring out how to enclose and inspect ideas
Enable you to preserve your idea all the way through planning, documentation, and construction
Prerequisites
Knowledge of operating systems
Knowledge of how to start an app, create and save files, copy to CDs and other media
Understanding of AutoCAD is an additional advantage
Building Information Modeling for Architecture Design
Creating and Modifying Levels & Grids
Basics of Building Model
Drawing and Modifying Walls
Inserting Doors and Windows
Loading Additional Building Components
Curtain Walls & Façade Detailing
Creating & Modifying Floors & Roof
Managing Views – Working with Section & Elevation views
Working with Dimensions
Working with Ceiling Plans
Creation and Modifying Ramp, Stairs & Railings
Working with Text & Tags & Drawing Sheets
Using Walk Through
Using Sun and Shadow Settings
Importing & Exporting Vector/Raster Files
Creating Sloped Floor, Roofs, & Slabs
Annotating Site Plans
Creating & Modifying Schedules
Managing Sheets 
Creating and Modifying Family & Components
Conceptual Designs using Mass
Topography & Site Components
Revit Architecture Training course Details
| | |
| --- | --- |
| Duration | 25 hours |
| Timing | Flexible slots are available |
| Language | English |
| Location | Face to Face at PINNACLE premises in Dubai /LIVE Online |
| Certificates | PINNACLE Professional Certificate of Completion , KHDA Certificate |
Revit Architecture Training Certification
PINNACLE Innovation and Education is approved by the Knowledge & Human Development Authority (KHDA), Dubai. All of our courses and trainings have undergone the necessary certification process and are officially acknowledged and approved by the authority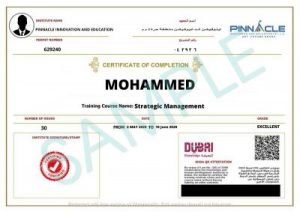 In-House and Live-Online Revit Architecture Training Options
If you are interested in taking this training program for you and your colleagues in your organization, at your premises or at a venue of your choice or online, you can enquire now and we shall offer you customized and effective IN-HOUSE or LIVE
ONLINE training solutions to meet your training needs
Why choose PINNACLE for your Revit Architecture Training?
Our expert trainers employ the most effective and up-to-date training techniques.
We employ research-based training programs with practical Training
Methodology and easy-to-understand approach that guarantees the delivery of extensive knowledge implementation over a short period of time.
After an initial analytical training consultation, we provide personalized training plans to clients for achieving their learning objectives.
We offer flexible face to face, online and blended mode of trainings
All our course materials are comprehensive and comprise of fundamental and systematic knowledge, practical studies and real-life applications.
Our conducive learning environment and utmost customer satisfaction approach makes every training program a memorable, enjoyable and rewarding learning experience for our clients.