Matrix Laboratory(MATLAB) Course in Dubai
PINNACLE Education offers Face to Face & Online Sessions in Dubai (UAE)
MathWorks' MATLAB programming language is used for numerical computational activities such as matrix manipulations, data visualizations, and advanced mathematical computations. Learn the basics of MATLAB so you can start working with advanced mathematical functions and creating exciting matrix visualizations. Consequently, learning MATLAB can lead to a variety of career opportunities in fields such as data science, data processing, computer science, Python, Java, and more.This course is designed for people who have little or no prior experience with computer programming. Moreover, it does so using the MATLAB programming framework and language, which is simple to understand, scalable, and extremely useful for engineers and other professionals.
For more details on the availability of our Training Program
Prerequisites
Undergraduate-level mathematics and knowledge of basic computer operations
Course Outline
I – Working with the MATLAB user interface
II – Entering commands and creating variables
III – Analyzing vectors and matrices
IV – Visualizing vector and matrix data
V – Working with data files
VI – Working with data types
VII – Automating commands with scripts
VIII – Writing programs with branching and loops
IX – Writing functions
MATLAB Training course Details
| | |
| --- | --- |
| Duration | 25 hours |
| Timing | Flexible slots are available |
| Language | English |
| Location | Face to Face at PINNACLE premises in Dubai /LIVE Online |
| Certificates | PINNACLE Professional Certificate of Completion , KHDA Certificate |
MATLAB Training Certification
PINNACLE Innovation and Education is approved by the Knowledge & Human Development Authority (KHDA), Dubai. All of our courses and trainings have undergone the necessary certification process and are officially acknowledged and approved by the authority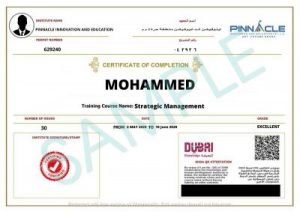 In-House and Live-Online MATLAB Training Options
If you are interested in taking this training program for you and your colleagues in your organization, at your premises or at a venue of your choice or online, you can enquire now and we shall offer you customized and effective IN-HOUSE or LIVE
ONLINE training solutions to meet your training needs
Why choose PINNACLE for your MATLAB Training?
Our expert trainers employ the most effective and up-to-date training techniques.
We employ research-based training programs with practical Training Methodology and easy-to-understand approach that guarantees the delivery of extensive knowledge implementation over a short period of time.
After an initial analytical training consultation, we provide personalized training plans to clients for achieving their learning objectives.
We offer flexible face to face, online and blended mode of trainings All our course materials are comprehensive and comprise of fundamental and systematic knowledge, practical studies and real-life applications.
Our conducive learning environment and utmost customer satisfaction approach makes every training program a memorable, enjoyable and rewarding learning experience for our clients.