Knowledge Management Training Course in Dubai
PINNACLE Education offers Face to Face & Online Sessions in Dubai (UAE)
An organization has a body of knowledge that comes from its history and operations. Knowledge management is the process of knowledge creation and then sharing and using it through a consistent system. A knowledge management system ensures that a company's knowledge base is never compromised by turnover, loss, or continued evolution of the organization itself. A knowledge management approach informs decision-making for the whole organization. It is important that the knowledge assets are protected and more importantly, consistent as the organization moves forward.
The knowledge base is so precious that big organizations now have resources and teams contribute to this concept. Knowledge management efforts start in the form of things like apprenticeships, professional training, and mentorship.

For more details on the availability of our Training Program
information systems have made a transfer of knowledge even easier as organizations dig into large bodies of data. Our online Knowledge Management course will provide the learner with a tool that they will help them to initiate implementingNknowledge management, no matter what is the size of the company or the budget. Wherever human beings are working collectively for one goal, there is a need to harvest knowledge and stored, and dispensed it.
What will you achieve?
Upon the completion of this course, you will be able to
Identify the main elements of knowledge Management and barriers to knowledge management.
Learn the main organizational factors that impact knowledge management.
Meet the specific cognitive needs in the organization and recommend the proper use of technologies for knowledge management.
Learn all the stages of knowledge management; identify the relation between other
strategic functions of the organizations and knowledge management.
Enhance the abilities to work in knowledge management projects.
Know and discuss the basic process of knowledge Management.
Who is this Knowledge management Course for?
This course is suitable for a person who is interested in knowing more about knowledge management.
Training course Details
| | |
| --- | --- |
| Duration | 30 hours |
| Timing | Flexible slots are available |
| Language | English |
| Location | Face to Face at PINNACLE premises in Dubai /LIVE Online |
| Certificates | PINNACLE Professional Certificate of Completion , KHDA Certificate |
Knowledge management Training Certification
PINNACLE Innovation and Education is approved by the Knowledge & Human Development Authority (KHDA), Dubai. All of our courses and trainings have undergone the necessary certification process and are officially acknowledged and approved by the authority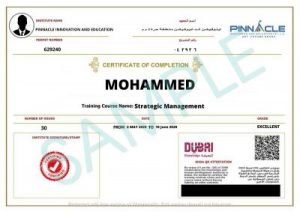 In-House and Live-Online Knowledge management
  

Training Options

If you are interested in taking this training program for you and your colleagues in your organization, at your premises or at a venue of your choice or online, you can enquire now and we shall offer you customized and effective IN-HOUSE or LIVE
ONLINE training solutions to meet your training needs
Why choose PINNACLE for your Knowledge management training?
Our expert trainers employ the most effective and up-to-date training techniques.
We employ research-based training programs with practical Training
Methodology and easy-to-understand approach that guarantees the delivery of extensive knowledge implementation over a short period of time.
After an initial analytical training consultation, we provide personalized training plans to clients for achieving their learning objectives.
We offer flexible face to face, online and blended mode of trainings
All our course materials are comprehensive and comprise of fundamental and systematic knowledge, practical studies and real-life applications.
Our conducive learning environment and utmost customer satisfaction approach makes every training program a memorable, enjoyable and rewarding learning experience for our clients.