Autodesk Inventor 3D Course in Dubai
PINNACLE Education offers Face to Face & Online Sessions in Dubai (UAE)
What will you learn from this Autodesk Inventor 3D Training?
PINNACLE offers an Autodesk Inventor 3D course in Dubai, Sharjah, Abu Dhabi UAE which is your one stop solution towards gaining proficient knowledge about Autodesk Inventor 3D. Known to be extensively used across wide-ranging industries such as civil engineering and architecture, Autodesk Inventor 3D software is considered to be highly valuable in today's times. Mastering the use of the Autodesk Inventor 3D software is a great way to boost your skill set, enhance efficiency and develop professionally. 
For more details on the availability of our Training Program
Through this, you will learn how to integrate 3D digital design in your projects and keep up with fast-paced technology using Autodesk Inventor 3D. After completing this training, you will get a certificate which is approved and attested by Knowledge and Human Development Authority (KHDA), Ministry of Education, Dubai (UAE). Since this skill is in demand in UAE, a job seeker in the similar field, must enroll for this training to secure a job in UAE.
Who is the Autodesk Inventor 3D course for?
This course is suitable for
Professionals interested in becoming expert users of Autodesk Inventor 3D software
Prerequisites
Basic knowledge of Microsoft Windows
Fundamentals of mechanical engineering, drafting and design
Autodesk Inventor 3D Training course Details
| | |
| --- | --- |
| Duration | 25 hours |
| Timing | Flexible slots are available |
| Language | English |
| Location | Face to Face at PINNACLE premises in Dubai /LIVE Online |
| Certificates | PINNACLE Professional Certificate of Completion , KHDA Certificate |
Autodesk Inventor 3D Training Certification
PINNACLE Innovation and Education is approved by the Knowledge & Human Development Authority (KHDA), Dubai. All of our courses and trainings have undergone the necessary certification process and are officially acknowledged and approved by the authority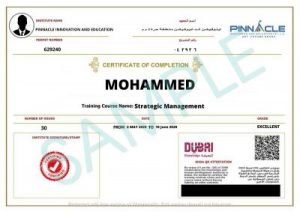 In-House and Live-Online  Autodesk Inventor 3D Training Options
If you are interested in taking this training program for you and your colleagues in your organization, at your premises or at a venue of your choice or online, you can enquire now and we shall offer you customized and effective IN-HOUSE or LIVE
ONLINE training solutions to meet your training needs
Why choose PINNACLE for your Autodesk Inventor 3D Training?
Our expert trainers employ the most effective and up-to-date training techniques.
We employ research-based training programs with practical Training
Methodology and easy-to-understand approach that guarantees the delivery of extensive knowledge implementation over a short period of time.
After an initial analytical training consultation, we provide personalized training plans to clients for achieving their learning objectives.
We offer flexible face to face, online and blended mode of trainings
All our course materials are comprehensive and comprise of fundamental and systematic knowledge, practical studies and real-life applications.
Our conducive learning environment and utmost customer satisfaction approach makes every training program a memorable, enjoyable and rewarding learning experience for our clients.