Logistics and Supply Chain Management
PINNACLE Education offers Face to Face & Online Sessions in Dubai (UAE)
At PINNACLE, the Logistics & Supply Chain Management Professional Course prepares students to work in every area of the supply chain, from warehousing to distribution to customer service. To get the proper training, one can only take the Supply Chain Management Course from a reputable institute. Students can gain awareness of how
companies use supply chain networks to purchase, manufacture, and distribute products and services to meet the needs of their increasing and diverse customer base.
The Supply Chain and Logistics Training Course will assist students in learning various processes in logistics and supply chain management, ranging from Material Planning to Distribution. It is divided into three major categories: Material Planning, Procurement, and
Logistics
For more details on the availability of our Training Program
What will you achieve?
The Supply Chain and Logistics Management Certification program aims to provide learners with the fundamentals to in-depth skills required for a career in logistics and supply chain management in the Gulf Cooperation Council (GCC).
Develop crucial entrepreneurial skills demanded in logistics and supply chain framework.
Provide candidates with information and skills in qualitative analysis and decision making.
Train participants in problem-solving in logistics and supply chain businesses.
Instruct in approaches used in design, outlay and administration of warehouses & distribution centers
Acquaint the new skills to attendees in Planning, Procurement, Logistics & Warehousing Management, with global features of logistics.
Who is this course for?
Professionals and business person in the Logistics and Supply Chain industry
Managers and leaders who wish to understand the ins and outs of this sector and be able to make
informed decisions regarding their business
Freshers or recent graduates who want to pursue a career path in logistics and supply
chain.
Buyers, supply chain managers, product specialists, logistics managers or any professional in
the same industry.
Pre-requisites:
Basic knowledge of the logistics and supply chain functions/industry.
Supply Chain and Logistics Management Training course Details
| | |
| --- | --- |
| Duration | 30 hours |
| Timing | Flexible slots are available |
| Language | English |
| Location | Face to Face at PINNACLE premises in Dubai /LIVE Online |
| Certificates | PINNACLE Professional Certificate of Completion , KHDA Certificate |
Supply Chain and Logistics Management
 

 Training Certification
PINNACLE Innovation and Education is approved by the Knowledge & Human Development Authority (KHDA), Dubai. All of our courses and trainings have undergone the necessary certification process and are officially acknowledged and approved by the authority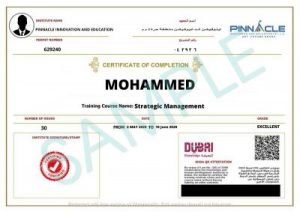 In-House and Live-Online Training Options
If you are interested in taking this training program for you and your colleagues in your organization, at your premises or at a venue of your choice or online, you can enquire now and we shall offer you customized and effective IN-HOUSE or LIVE
ONLINE training solutions to meet your training needs
Why choose PINNACLE for your Supply Chain and Logistics Management Training?
Our expert trainers employ the most effective and up-to-date training techniques.
We employ research-based training programs with practical Training
Methodology and easy-to-understand approach that guarantees the delivery of extensive knowledge implementation over a short period of time.
After an initial analytical training consultation, we provide personalized training plans to clients for achieving their learning objectives.
We offer flexible face to face, online and blended mode of trainings
All our course materials are comprehensive and comprise of fundamental and systematic knowledge, practical studies and real-life applications.
Our conducive learning environment and utmost customer satisfaction approach makes every training program a memorable, enjoyable and rewarding learning experience for our clients.