Graphic Design Training Courses In Dubai
PINNACLE Education Offers Classroom & Online Graphic Designing Course in Dubai
Graphic design Courses overview
If you wish to be a creative designer and are interested in finding a platform that will enable you to indulge in your creative side every day, PINNACLE offers intensive graphic design course in Dubai, Sharjah, Abu Dhabi, and UAE. Graphic designing can seem like a complex task to learn.The role of a graphic designer is extensive and ranges across various duties. This all-in-one graphic design course is the ultimate package for you to enhance your graphic design art. Combining a thorough introduction to Adobe Photoshop, Adobe InDesign, Adobe Illustrator this extensive course will turn you into an expert when it comes to developing concepts into striking images or slogans. This is your chance to learn graphic design course how you can reach great opportunities by channeling your skills to amaze multiple companies.
You will have the chance to produce ground-breaking graphic designs for advertising, packaging, print media, branding, and online production, among other graphic needs. Graphic design Course Training is a talent, a job, and an academic discipline. Graphic designers, visual designers, user interface designers, filmmakers, and others in design-related professions utilize graphic design to communicate.
Graphic design classes at the PINNACLE
You'll learn how to use Creativity in your designs for brochures, posters, logos, publications, and more in this Graphic design classes . You'll quickly discover how to create distinctive work that you can proudly share with the rest of the world.
The Graphic Design Classes will cover:
Adobe Photoshop software which is designed for Photographers, Digital Designer, Digital Artists, and for Photo enthusiasts.
Adobe Illustrator for the typography designers, vector logo creators.
Adobe InDesign for the Visualizer, Paginator, and Layout Artist designers.
Benefits of Graphic Design Courses
Individual graphic design Training do not necessitate any prior design knowledge.
To learn specialized graphic design abilities, attend in one of the programs
For a more complete learning experience, enroll in a Graphic Design Certificate program or a Graphic Design bootcamp.
Regardless of your function or responsibilities, you can find instant, practical benefits
What skills you will learn in Graphic Design Courses?
Foundational principles of design, creativity, and communication are taught in graphic design classes. Participants in graphic design classes learn how to create layouts, flyers, brochures, magazines, newsletters, books, catalogs, and newspapers in both digital and print formats, with a focus on simple and clean design that communicates effectively. The graphics design course in Dubai features a well-structured program that includes both theory and practical work. Graphic design is an incredibly vast field that incorporates a range of products, multimedia, and skills, including:
Visual design: Using the principles of design to improve a product's aesthetic appeal, optimize user experiences and drive brand recognition, brand loyalty, consumer engagement, and/or sales.
Typography: Arranging a specific font style into a legible, pleasing composition in order to elicit certain emotions within its viewers and convey a specific message.
Page layout: Formatting text, images and graphics on a page in a balanc­­­ed manner to emphasize a theme or deliver a message to viewers.
Illustration

: Using a visual medium, such as traditional gouache paints or modern digital artwork apps, to creatively interpret a text, prompt, or idea

Data visualization: Transmuting complex information or data into a simple, digestible graphic that engages viewers
Graphic Design Training Outline
This Advanced Adobe Photoshop training course is for those who wish to take their skills to the next level. This course covers colour settings, colour management, sophisticated image adjustment, advanced layer techniques and additional special effects
Module 1 – Getting started
Image copyrights
Digital images
The photoshop environment
Module 2 – Working with image selections:
Selection techniques
Modifying selections
Module 3 – Working with layers
Creating layers
Modifying layers
Using type layers
Using layer effects
Module 4 – Adjusting images
Image modes
Hue and saturation adjustments
Levels adjustments
Module 5 – Retouching images :
Repairing image defects
Removing image areas
Painting
Using filters
Module 6 – Resizing images :
Image resolution
Image canvas size
Module 7- Preparing Finished images:
Image for Web use
Image for print use
Printing images
Importing images
Module 8 – Working with layout :
Customising Photoshop
Applying selection properties
Module 9 – Working with vector graphics
Working with shapes
Working with paths
Module 10 – Working with colours
Histogram palette
Adjusting colours
Module 11 – Working with layers options
Opacity and blending options
Managing layerso Using layer effects
Using layer
styles Using adjustment
layers and layer comps
Module 12 – Using channels and masks:
Working with channels
Working with masks, advanced Masking options
Module 13 – Using Filters:
Using Noise and Rendering ilters
Using Brush Stroke ilters
Using Texture ilters
Using the Liquify filter
Module 14 – Automating tasks:
Using actions
Using Automate commands
Module 15 – Preparing graphics for print and the web
Preparing graphics for print
Preparing graphics for the Web
Graphic Design Training courses Details
| | |
| --- | --- |
| Course Code | PINMP-001 |
| Duration | 36 hours |
| Timing | Flexible slots are available |
| Language | English |
| Location | Face to Face at PINNACLE premises in Dubai /LIVE Online |
| Certificates | PINNACLE Professional Certificate of Completion , KHDA Certificate |
What will you achieve in Graphic design Preparation?
Use your design problem-solving talents to make a difference in the world.
Come up with new ideas when it comes to publishing, motion, and interactive media.
Effortlessly communicate with employers and clients; Professionally implement your ideas in any medium.
Begin your design career in any area;
Start a business or market yourself as a freelancer.
From initial creativity to print manufacturing or interactive prototyping, you should be familiar with all parts of industry standard workflow.
Basic computer knowledge
Basic drawing skills
Modes of Training at PINNACLE:
Face to Face Physical Graphic design Training at our esteemed Premises.
Online Live Graphic design Classes for all the students who are around the Globe.
Graphic Design Certification at PINNACLE
PINNACLE Innovation and Education is approved by the Knowledge & Human Development Authority (KHDA), Dubai. All of our courses and trainings have undergone the necessary certification process and are officially acknowledged and approved by the authority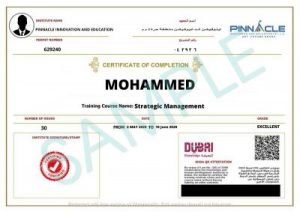 Why Choose PINNACLE For Graphic Design ?
We are one of the Best Training institutes in Dubai to offer short-time / part-time courses in Graphic Design that you can pursue irrespective of your current stream of education. Upon successful completion of the graphic design courses in Dubai, you will have:
Our Graphic design training

expert trainers employ the most effective and up-to-date

Graphic design

training techniques in Dubai.

We employ research-based

Graphic design course

training programs with practical

Graphic design

Training Methodology and easy-to-understand approach that guarantees the delivery of extensive knowledge implementation over a short period of time.
After an initial analytical Graphic design training consultation, we provide personalized training plans to clients for achieving their learning objectives.
We offer flexible face to face, online and blended mode of trainings
All our course materials are comprehensive and comprise of fundamental and systematic knowledge, practical studies and real-life applications.
Our conducive learning environment and utmost customer satisfaction approach makes every training program a memorable, enjoyable and rewarding learning experience for our clients.
In-depth knowledge of a wide variety of concepts of graphic designing
Ability to develop visual ideas, initiate projects and execute designs in industry-level software