Digital Marketing Course
Best Digital Marketing Course in Dubai, Abu Dhabi & Sharjah (UAE)
What is Digital Marketing?
The world has changed dramatically in the last decade, and our way of life has changed as well. The rise and proliferation of digital marketing are one of the most notable shifts. Companies use digital marketing as a method to support services, brands, and goods. Consumers depend on digital ways of researching products in today's world. As a result, digital marketing is considered a new approach towards customers. It focuses on how customers behave. Moreover, it is a section of marketing that uses various routes to reach customers. For instance, digital marketing uses search engines, mobile devices, social media, and more such channels. It is different from traditional marketing. Digital marketing is interactive. It is gradually becoming more popular across different industries.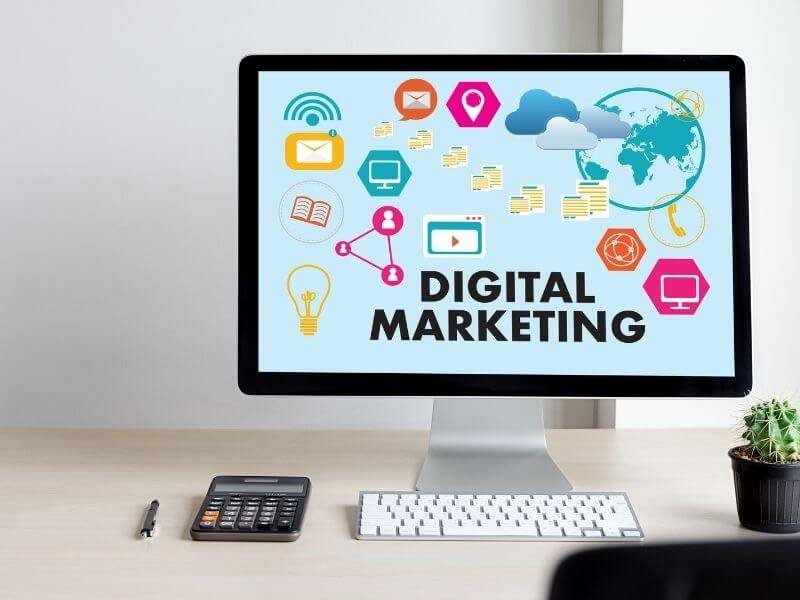 Why should I learn digital marketing?
The digital economy is expanding at ten times the rate of the offline economy. As a result, digital marketing skills will continue to be in demand in the near future. A digital marketing expert's responsibilities include setting up a company online, conducting ad campaigns, and designing content strategies, to name a few. Companies can use digital marketing to reach a larger audience, expand their brand, and increase sales.
Digital marketers are well-versed in a variety of online resources and platforms. With digital marketing skills, you can start an online business by yourself, become a digital marketing consultant or start a freelancing business. Furthermore, you can start their own company. You'll be able to lower the costs of your business's marketing, target the right audience, and monitor your success more effectively.
To work as a digital marketer, you must learn the necessary online marketing strategies and work on your portfolio. However, it's easy to get started in the industry. Moreover, the digital marketing community is full of incredible individuals. In short, if you're on the hunt for new career prospects, this is an excellent place to start.
Digital marketing calls for a blend of creativity and technological expertise. Since this area is so large, it is divided into many parts. Each part involves a different set of skills. A content marketer, for example, should be able to write fantastic blog posts. A social media marketer must know how to effectively run a promotion campaign.
The internet evolves every year. Digital marketers must respond to these developments on a regular basis. As a result, they are constantly learning new skills and strategies. If you're looking for a field with a lot of diversity and novelty, digital marketing is the way to go.
Digital Marketing course at PINNACLE:
PINNACLE offers an intensive digital marketing course across the UAE that will follow a blended mode of learning. Interested learners can opt for onsite or online learning. Firstly, this course will take you through the basics of digital marketing. Secondly, you will learn how to reach customers and boost revenues. Thirdly, you will understand how to optimize your online approach. For instance, you will learn how to optimize the performance of your online marketing ventures. Moreover, the course is practical and uses a hands-on approach. Above all, the core skills needed for digital marketing will be taught. In addition, your level of marketing or business experience does not matter. This course also welcomes individuals from different professions.
Why PINNACLE?
After completing this course, you will be skilled to:
Incorporate digital marketing as a key component of marketing strategies
Generate new visitor traffic to your website while improving online conversion rates
Target buyers based on unique data
Build and execute advertising and marketing campaigns online.
Develop mobile marketing campaigns
Use suitable social media channels for various business objectives
Who is this course for?
IT professionals
Sales and marketing professionals
Fresh University Graduates
High school students
Business Owners who want to boost their sales using Digital Marketing
Individuals interested in pursuing a career in Digital Marketing
Pre-requisites:
Course Outline:
Introduction to Digital Marketing
Search Engine Optimization (SEO)
Paid Search (PPC) using Google Ads
Social Media Marketing
Content Marketing
Email Marketing
Website Optimization
Display and Video Advertising
Digital Marketing Strategy
Analytics with Google Analytics
Course Modules:
Building Blocks of Digital Marketing

Search Engine Optimization

Google Advertising (Google AdWords: Search & Display Ads)

Social Media Marketing (Content, Strategy & Community Management)

Social Media Marketing (Paid Advertising)

New Trends in Social Media Marketing

Analytics & Reporting (Google Analytics, Social Media Analytics)

Email Marketing & Automation

Digital Strategy & Planning for Business Growth

Affiliate Marketing & Influencer Marketing

Lead Generation (Lead magnets, Customer Value Optimization)

Portfolio Development / Building your own Case Study
Course Fees:  Click Here to Enquire