Digital Marketing Training Course in Dubai
Best Digital Marketing Course in Dubai, Abu Dhabi & Sharjah (UAE)
Digital Marketing consists of the most used channels to promote brands and businesses in the
region including Social Media, SEO, Google Ads and Email Marketing. Tactical and sophisticated
techniques are used with the help of analytical sources to help drive awareness, leads and
conversions. Having the capability to deliver to your customer's needs, in the right place at the
right time is absolutely vital to achieve your goals and grow. 
ENQUIRE NOW
For more details on the availability of our Training Program
The most up to date marketing processes and tools will be covered in this course to drive actionable results and marketing growth for businesses. SEO training, Google Adwords Training, Social Media Training, Email Marketing Training, Google Analytics Training are gaining their significance in the recent past as the landscape of Marketing is changing. Learn how to use data-driven marketing in your overall strategy related to the MENA
Course Objectives
Successful completion of the Digital Marketing training course will help you to:
Analyse how marketing, operations, and human resources intersect in real time.
Know how to conduct online research, as well as identify, assess, and select digital market opportunities.
Understanding digital marketing trends and applying relevant theories and frameworks for evaluating its use.
Examine issues related to adapting to constantly changing and increasingly networked global markets.
Interpret traditional marketing tactics and strategies considering a changing and extended range of digital approaches.
Work with digital relationship marketing and understand the importance of conversion.
In globalized digital markets, analyse cross-cultural and ethical issues.
Digital Marketing Course Prerequisites:
The Digital Marketing Program is designed for individuals who are comfortable using a computer and navigating social media platforms, and who are interested in gaining world-class digital marketing skills while still holding on to their day job.
You will receive a pre-course questionnaire , which should be completed and sent to us a week in advance .It will help us adjust the 

Digital Marketing  

course to your needs
Note: This is a hands on Digital Marketing training course and participants are required to bring and use their personal laptops during the lab sessions.
Digital Marketing course Schedules
| | |
| --- | --- |
| Course Code | PINSM001   |
| Duration | 35 hours |
| Timing | Flexible slots are available |
| Language | English |
| Location | Face to Face at PINNACLE premises in Dubai /LIVE Online |
| Certificates | PINNACLE Professional Certificate of Completion , KHDA Certificate |
Understand what is digital marketing & learn how digital marketing can support your business
Learn tools and process to create a data-driven digital marketing strategy for all channels
Understand social media algorithms and how to manage them
Learn how to increase Social Media engagement, sales and ROI through organic & advertising techniques
Create Social Media video strategy
Learn how to market your website through trending SEO techniques to increase visits & sales
Learn how to use the Google Ads tool & set-up targeted adverts
Create engaging email content & reach the right customers
Understand how to use Google Analytics to optimise your strategy
Who Should Attend Our Digital Marketing Preparation?
Our Digital Marketing Course addresses what is needed in the market.This course is suitable for :
Sales & Marketing Professionals
Fresh Graduates
Graphic Designers
IT / Engineering Graduates
People who want to generate more business leads
Business Owners, Entrepreneurs and Marketers
People new to digital marketing
Digital MarketingTraining Methodology
All our Digital Marketing Training Programs include the most practical and effective adult teaching and learning techniques. Our research-based Digital Marketing Prepaartion Course design, development, planning and execution has given us true experience that only a combination of these methods work well to guarantee utmost learning outcomes for our valued participants and clients.
Digital MarketingTraining Certification
PINNACLE Innovation and Education is approved by the Knowledge & Human Development Authority (KHDA), Dubai. All of our courses and trainings have undergone the necessary certification process and are officially acknowledged and approved by the authority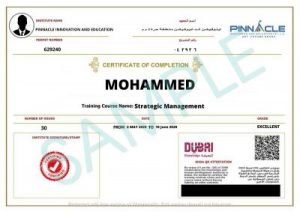 Why Choose PINNACLE?
Our expert Digital Marketing trainers employ the most effective and up-to-date training techniques.
We employ research-based training programs with practical Digital Marketing Training Methodology and easy-to-understand approach that guarantees the delivery of extensive knowledge implementation over a short period of time. 
After an initial analytical Digital Marketing training consultation, we provide personalized training plans to clients for achieving their learning objectives. 
We offer Digital Marketing flexible face to face, online and blended mode of trainings in Dubai
All our Digital Marketing preparation course materials are comprehensive and comprise of fundamental and systematic knowledge, practical studies and real-life applications..
Our conducive learning environment and utmost customer satisfaction approach makes every training program a memorable, enjoyable and rewarding learning experience for our clients.