SQL Server Course In Dubai
PINNACLE Education offers Face to Face & Online Sessions in Dubai (UAE)
In this course, you gain the introductory skills to leverage the advantages of SQL Server's, learn how to automate data accessibility and maintenance with the SQL programming language, and develop a solid foundation for database building, querying, and manipulating. You will also learn how to use the various administrative and development tools within SQL Server Microsoft BI stack of Integration Services, Analysis Services, and Reporting Services. SQL Server provides a platform for enterprise data management, robust development, and advanced Business Intelligence applications implementing. Attend this hands-on course and learn how to leverage these features.
ENQUIRE NOW
For more details on the availability of our Training Program
What will you achieve?
Upon successful completion of this course, you will be skilled to:
Prepare multi-tabular SQL queries.
Prepare SQL queries containing correlated and uncorrelated sub queries, outer joins, inner joins, and self joins.
Assess the variations between sub queries and joins.
Successfully employ built-in functions and features.
Produce user friendly output through the use of SQL formatting features of.
Analyze the results of various data types and the use of NULLs.
Prepare the SQL queries for data ordering and data grouping.
Prepare SQL queries which involve decision making.
Write SQL queries for defining/manipulating/altering data.
Define and explain data integrity issues: validity checking, uniqueness constraints, referential integrity problems, cascaded deletes and updates, triggers.
Identify and illustrate the transaction processing problems like locking processes.
Identify and define security concepts like User-IDs, levels of privileges, views.
Generate embedded SQL programs including processing stored procedures.
SQL Server Training course Details
| | |
| --- | --- |
| Duration | 25 hours |
| Timing | Flexible slots are available |
| Language | English |
| Location | Face to Face at PINNACLE premises in Dubai /LIVE Online |
| Certificates | PINNACLE Professional Certificate of Completion , KHDA Certificate |
Who is the course for?
IT professionals who are interested to build their career in SQL Server.
Fresh University Graduates.
High school students.
Pre-requisites:
Basic understanding of computers.
SQL Server Training Certification
PINNACLE Innovation and Education is approved by the Knowledge & Human Development Authority (KHDA), Dubai. All of our courses and trainings have undergone the necessary certification process and are officially acknowledged and approved by the authority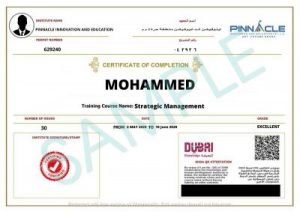 In-House and Live-Online Training Options
If you are interested in taking this training program for you and your colleagues in your organization, at your premises or at a venue of your choice or online, you can enquire now and we shall offer you customized and effective IN-HOUSE or LIVE
ONLINE training solutions to meet your training needs
Why choose PINNACLE for your SQL Server training?
Our expert trainers employ the most effective and up-to-date training techniques.
We employ research-based training programs with practical Training Methodology and easy-to-understand approach that guarantees the delivery of extensive knowledge implementation over a short period of time.
After an initial analytical training consultation, we provide personalized training plans to clients for achieving their learning objectives.
We offer flexible face to face, online and blended mode of trainings All our course materials are comprehensive and comprise of fundamental and systematic knowledge, practical studies and real-life applications.
Our conducive learning environment and utmost customer satisfaction approach makes every training program a memorable, enjoyable and rewarding learning experience for our clients.