Preparation Course for Certified Management Accountant (CMA) Certification in Dubai, Sharjah (UAE)
Pinnacle Education Offers Classroom & Online CMA Course in Dubai
The IMA CMA certification is an internationally recognized credential and we, at Pinnacle, are offering an extensive CMA training course in Dubai. With qualified trainers and in-depth training in CMA Part 1 and CMA Part 2, Pinnacle is here to help you prepare for the IMA CMA exam that awaits you.
Institute of Certified Management Accountants (ICMA) is a division under Institute of Management Accountants (IMA) that provides CMA professional certification. When it comes to management accounting, earning your CMA is primary as this credential will take your career to greater heights. According to the IMA, certified individuals earn 33% more than their non-certified peers.
What is CMA Certification?
Certified Management Accountant or CMA is a professional certification in strategic management, financial accounting and financial management areas. What distinguishes the CMA from other accounting certifications is that it is an internationally recognized credential which specially emphasizes management accounting and corporate finance.
What does a CMA do?
Within an organization, CMAs are involved in:
❖ Analysing data from various sources to advise performance improvement
❖ Corporate finance, strategy teams and accounting
❖ Joining forces with other performance managers
❖ Suggesting developments with respect to the company's financial strength
❖ Producing their understanding of the company's financial state
❖ Playing a part in calculated business decisions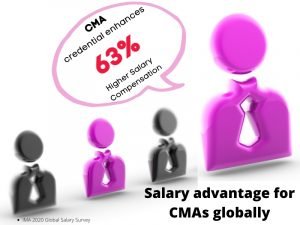 Why should you become a CMA?
The CMA is a globally accepted certification that unlocks abundant opportunities in financial management and accounting over numerous industries. With the time and money that you invest in the CMA exam, the CMA credential presents to you a six-figure salary and a major advantage over the competition in the market. Essentially, the job market of CMAs does not stop flourishing and you can become a coveted professional.
To earn the CMA Certificate, you must meet the following requirements
The IMA states that candidates must have a bachelor's degree from an accredited university or an approved professional certification to be eligible for the CMA certification. Additionally, candidates must have two years of full-time work experience in management accounting and/or financial management which can be completed before or within 7 years of passing the two-part examination.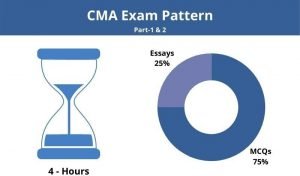 Both parts of the exam must be passed within three years' time to secure the credential.
Obtaining a CMA is a surefire way for you to enter a world of wide-ranging career openings. If you're interested in pursuing a management career, this is the right designation for you.
Why join Pinnacle for CMA Training?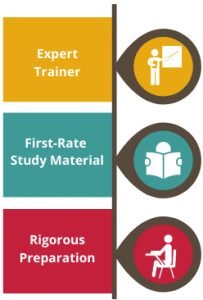 What is CMA?
CMA stands for Certified Management Accountant, and it is a specialized qualification in the fields of management accounting and financial management. The credential demonstrates that the individual has knowledge of financial preparation, research, control, decision support, and professional ethics.
What is the CMA exam format?
There are 100 multiple-choice questions in each section, as well as two 30-minute essay questions. The CMA exam has two parts: a computer-based exam and a written exam. Each exam lasts four hours, with three hours dedicated to multiple-choice questions and one hour dedicated to essay questions. (After you finish the multiple-choice segment, the essays will be presented.)
How are CMA P1 and P2 different?
The overall emphasis of the CMA program is on financial decision-making and management accounting.
Part 1 of the credential focuses on costing, management accounting, external financial statements, and internal controls, while Part 2 focuses on financial decision making, financial statement analysis, corporate finance management, risk management and professional ethics.
How long would it take to pass both the exams in the first try?
On average, candidates take 1 to 1 1/2 years to pass both parts 1 and 2 on their first attempt.
What is the eligibility criteria to apply for the CMA exam?
A bachelor's degree from a recognized university is required to apply for the exam (any specialization).
When are the CMA exams conducted?
Exams for CMAs are held three times a year: in January/February, May/June, and September/October.
Is CMA equal to CA?
There are many distinctions between a CA and a CMA, despite the fact that they are both accounting designations, as well as the credentials required to excel in the field of accountancy. Chartered Accountant is abbreviated as CA, and Certified Management Accountant is abbreviated as CMA.
What jobs can I get with a CMA certification?
Financial Analyst.
Financial Risk Manager
Managing Director.
Chairman cum Managing Directors.
Finance Director.
Cost Accountant.
Financial Controller.
Cost Controller.
Marketing Manager.
Chief Financial Officer
 Chief internal
Why CMA?
Global Credibility
Strong foundation of knowledge – Management Accounting and Financial Management
Important career development opportunity
10. What are the benefits of doing CMA?
Business validation:  The CMA credential is widely regarded as one of the best accounting credentials. CMA will teach you everything you need to know about companies, accounting, and corporate governance.
 Career openings:  CMA offers a variety of job options. As a CMA, you'd be in charge of the accounts, giving you the opportunity to advance in management.
Global scope:  CMA certification improves your knowledge of economics, business, and accounting. Holders of a CMA will find work all over the world. They are well-known on a global scale.
 Financial development:  Candidates with a CMA diploma receive 67 percent more than those with just a bachelor's degree. You will earn a lot of money if you have a CMA certification.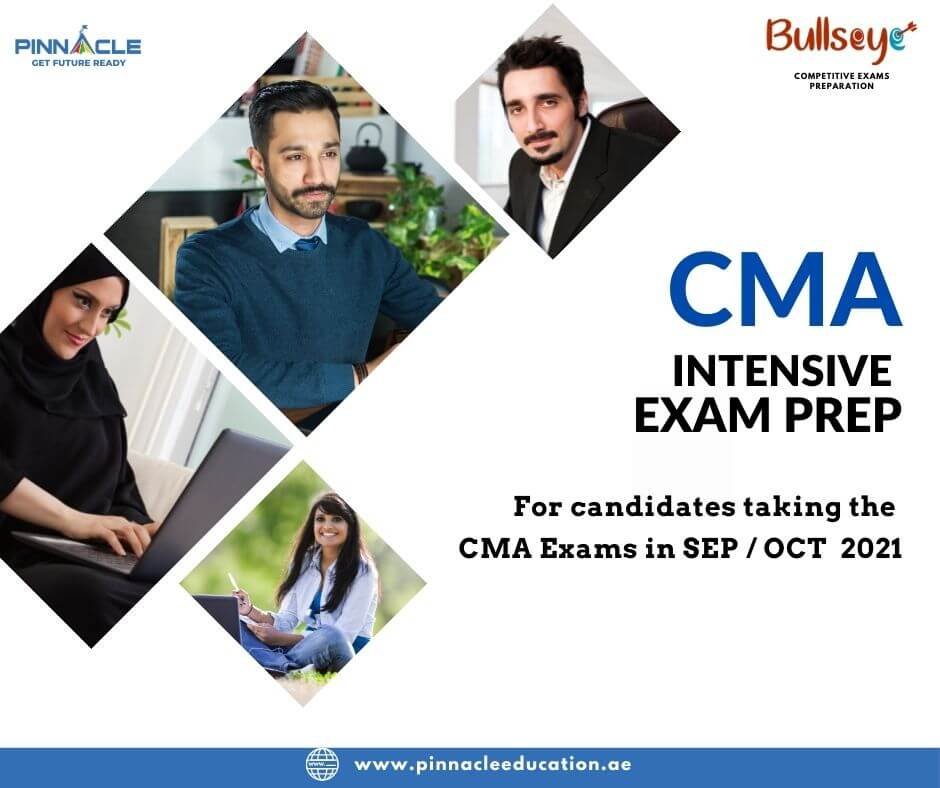 Register Now For CMA Exam Preparation Course