Change Management Training Course in Dubai
PINNACLE Education offers Face to Face & Online Sessions in Dubai (UAE)
We live in a globalized world of continuous change. Your ability to successfully manage change will allow you to have a positive impact on your work and your life. Via structured learning activities this course will teach you how to effectively influence change by developing a 'change mindset', creating a productive change cycle, and leading yourself and others on the change journey. Change is inevitable but you can influence how it affects your organization.
For more details on the availability of our Training Program
Course Methodology
Lectures, Videos, Quizzes, discussion prompts, and written assessment
What will you achieve?
You will learn how to
Re-imagine change by redefining the change problem
Develop a balanced and reflective change mindset
Who is this course for?
We encourage and welcome anyone to Change Management. You'll find this program especially beneficial if you are responsible for driving change on a team or across an organization.
Change Management Training course Details
| | |
| --- | --- |
| Duration | 25 hours |
| Timing | Flexible slots are available |
| Language | English |
| Location | Face to Face at PINNACLE premises in Dubai /LIVE Online |
| Certificates | PINNACLE Professional Certificate of Completion , KHDA Certificate |
Target Competencies
Building an organizational competency to manage change, also known as enterprise change management (ECM),  you target the foundation of how the organization operates, as well as how individuals in the organization relate to change.
Prerequisites:
No specific Prerequisites
Change Management Training Certification
PINNACLE Innovation and Education is approved by the Knowledge & Human Development Authority (KHDA), Dubai. All of our courses and trainings have undergone the necessary certification process and are officially acknowledged and approved by the authority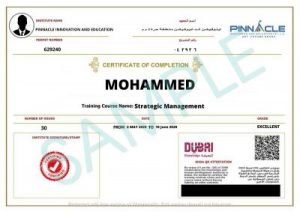 In-House and Live-Online Training Options
If you are interested in taking this training program for you and your colleagues in your organization, at your premises or at a venue of your choice or online, you can enquire now and we shall offer you customized and effective IN-HOUSE or LIVE
ONLINE training solutions to meet your training needs
Why choose PINNACLE for your Change Management
 T

raining?
Our expert trainers employ the most effective and up-to-date training techniques.
We employ research-based training programs with practical Training Methodology and easy-to-understand approach that guarantees the delivery of extensive knowledge implementation over a short period of time.
After an initial analytical training consultation, we provide personalized training plans to clients for achieving their learning objectives.
We offer flexible face to face, online and blended mode of trainings All our course materials are comprehensive and comprise of fundamental and systematic knowledge, practical studies and real-life applications.
Our conducive learning environment and utmost customer satisfaction approach makes every training program a memorable, enjoyable and rewarding learning experience for our clients.