The International English Language Testing System or IELTS is an internationally recognized standardized test of English language proficiency for study, work, and migration. Basically, the IELTS exam score proves your proficiency level in English. A global team of professionals develop the content of the IELTS exam. Intensive research is carried out to make certain that the test remains free from bias irrespective of gender, nationality, background, location, or lifestyle.Also the candidate's future plans determine whether he/she must opt for the IELTS Academic or IELTS General Training.
For more details on the availability of our Training Program
 What Is The IELTS Exam Structure?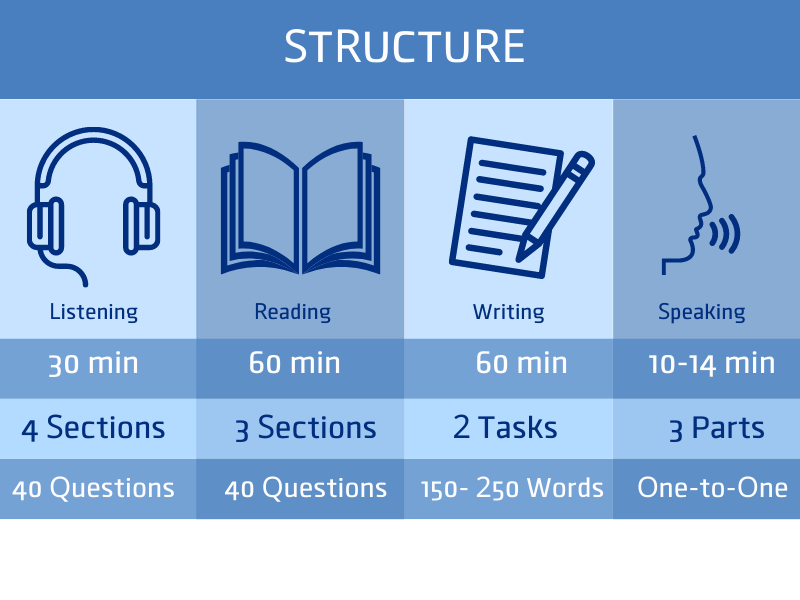 What are the Modules in the IELTS Exam?
The IELTS Exam modules generally cover 4 kinds of tests which incorporate Listening, Reading, Writing and  Speaking.
IELTS Listening Module:
Duration: 30 minutes
You are given different recordings from assorted settings.
The recordings are usually of general circumstances, scholarly conversations, or talks.
While hearing the recordings, you are asked to address the inquiries given in different configurations such as sentence completion and coordinating, MCQ, and so forth.
Recordings will not be repeated
IELTS Reading Module
Duration: 60 minutes
The reading test is segregated into small tasks.
You will have to find out the answers and do not read aloud.
You will require master direction in this part as you will see it troublesome.
PINNACLE innovation and education  in Dubai offers you master direction and fast tips to handily pass this level using effective Action Plan.
IELTS Writing Module
Duration: 60 minutes
IELTS Writing test is generally extensive. You should go through 20 minutes on the first assigned task and 40 minutes on the second.
The first part of the IELTS writing exam will place you in actual  circumstances to test how you manage them.
The subsequent assignment centers around abstract topic. You need to respond to each topic cautiously and with clarity.
IELTS Speaking Module:
Duration: 11-14 minutes
The Speaking segment incorporates a couple of general inquiries identified with your family, work, life, and that's only the tip of the iceberg.
You will be given a cue-card that focuses on a theme. You are wanted to give your opinions on this theme.
A conversation among you and the inspector will be led on the chosen topic in an informal and summed up manner.
Who Should Take IELTS?
Individuals who should opt for IELTS training in Dubai:
Individuals migrating to UK/US/Australia/Canada
Individuals who wish to study where English is the mode of instruction
For teachers to register in MOE or KHDA
Some working or healthcare professionals who require specific band score
What Are The Types Of IELTS Test?
What Are The Benefits Of Having An IELTS Certification?
IELTS certification validates your English language abilities and mastery with an IELTS band score
IELTS is acknowledged in excess of 3000 organizations in the US and huge number of foundations in English-speaking countries
With an IELTS score, you can investigate huge profession openings with upgraded relational abilities.
Numerous government organizations, colleges, businesses, and different foundations acknowledge IELTS test results.
IELTS is likewise acknowledged as evidence of English capability for visas study, enlistment, and work in outside nations.
Key Features Of IELTS Exam Preparation At PINNACLE
PINNACLE offers the best IELTS training in Dubai. Every IELTS aspirant will be given pre-evaluation test and IELTS mentors will give a feedback about your outcome and will suggest you an appropriate course. Simply complete our enrollment process and you can start gaining our proficient IELTS trainers' support within 48 hours. In addition, our course is developed  to give you a comprehensive practice in Listening, Reading,Writing and Speaking, ensuring you  precisely focusing on how to utilize your time. Above all, you will practice IELTS exam under test conditions and our experts will give you input on improving your IELTS score.
PINNACLE offers a final IELTS practice test so you can see your practical score prior to taking the real IELTS assessment.
IELTS Syllabus At PINNACLE:
Our IELTS Training  in Dubai covers the following components of the IELTS preparation:
IELTS General  and Academic exam preparation data
Several IELTS practice tests on all four modules
Training on letter and article composing
Describe a graph or write a summary
Grammar accuracy and reach
Writing with consistency and construction
Implementing ideas or multiple views
Customized speaking segment
Basic IELTS listening practice and understanding abilities
Fundamental sentence structure rules
IELTS Training Options At PINNACLE:
Everyone has their own learning style and PINNACLE offers customized IELTS study plan for IELTS Academic  and IELTS General Training in Dubai. In case you are applying for migration and need assistance with IELTS General, we can help.
Our IELTS training in Dubai is intended for candidates irrespective of language levels. Even after completion of the course, we will assist you with the IELTS Study plan. Our IELTS Coaching classes and free IELTS Assessment Test are uniquely intended to assist you with scoring high.
IELTS Online Training At PINNACLE:
We have been providing live interactive Distance Learning through web-based classes to various regions in the UAE and have proven to create extraordinary outcomes.
Our present circumstance made this web-based methodology more advantageous for some students as they could save time. Study at your own comfort with flexible timing . In conclusion, money as opposed to going to the conventional onsite classes.
Book your seat today for the best online & offline IELTS Coaching in Dubai.
How can PINNACLE help you with IELTS preparation in Dubai?
Blend of classroom and IELTS online sessions
Latest Materials and essential resources from Cambridge and IDP
Exclusive attention and personalized assistance from professionally qualified trainers
In-depth training in each section of the IELTS test – Listening, Reading, Writing and Speaking.
Useful tips on time management and test taking strategies from IDP
Top-quality research based detailed study material
Sufficient IELTS classes, Mock tests and IELTS practice tests with expert feedback to build confidence before giving IELTS Test.
Consistently helping students achieve desired bands of both IELTS Academic and IELTS General
Why do people highly prefer PINNACLE for IELTS test preparation in Dubai?
PINNACLE Education, Dubai, is one of the expert training establishments conveying the best IELTS preparation. Our IELTS classes in Dubai will assist you with working on your perusing, composing, Speaking, and listening abilities. We have industry-driving experts who proposition custom fitted courses to applicants. At PINNACLE,  we give different reviews to help our candidates upgrade their IELTS score  and  build  comprehensive English language skills. To be the best IELTS training center in Dubai , our IELTS classes are taught with adequate materials  and IELTS test taking techniques that are appreciated by all the students. The IELTS classes are conducted in flexible timings, and most importantly  keeping in mind the individual learning requirements of the students.
Our expert trainers use research-based comprehensive study material and IELTS test strategies to help you score highest bands in your first attempt.  As we aim to be the best IELTS training center in Dubai, our IELTS course will enable you to acquire a comprehensive understanding of the structure of each section of the IELTS Exam. However , the different types of questions in each module and IELTS test strategies to complete each module in the given time. We understand your goals and we are here to help you score higher in the IELTS exam in Dubai.
If you are interested in securing your ideal opportunity and fulfilling your dreams by taking the IELTS exam in Dubai, join PINNACLE learning community and begin your IELTS test preparation in Dubai today!
If you are determined to pursue your dreams by taking the IELTS training in Dubai,

join PINNACLE , the best IELTS center in Dubai and begin your IELTS test preparation in Dubai today!
Be On Top With PINNACLE!
Looking to prepare for IELTS exam in Dubai?Join Our IELTS Program
Call us on 04 5754845
Enquire About IELTS Classes
What Our Clients Say About Us…
Learning Experience at PINNACLE is Awesome!
My experience with Pinnacle was good. All the staff were cooperative, specially Madam Humera she was great.
⭐⭐⭐⭐⭐
Google Review 5/5
PINNACLE is an Institute of Excellence
Institute of excellence. Instructor has good teaching skills and work hard with trainees. Just go and join pinnacle because they will diagnosis your level and then provide you training. Nice environment for learning having all stimulations for improvement. 
⭐⭐⭐⭐⭐
Google Review 5/5