Scratch Coding For kids in Dubai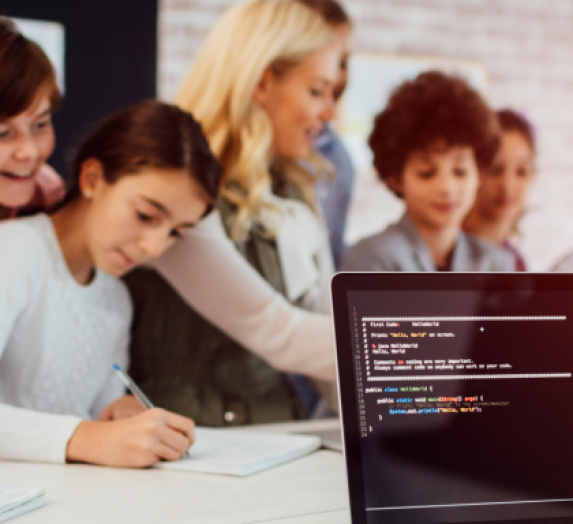 Scratch-Block Based Coding For kids In Dubai,designed for 6 -12 year olds to learn a particular style of programming suited to creating interactive applications with multimedia content. The Coding lesson plan needs to introduce programming concepts, logical reasoning, and stimulate their interest so that they have the desire to put their skills to use in creating their own projects. Each Coding Courselesson involves a teacher demonstration or playing of one of our videos followed by the pupils exploring Scratch and developing their own projects.
"Welcome to the Junior Innovators" Scratch Code World
ENQUIRE NOW
For more details on the availability of our Training Program
Objectives
Learn the basics of Coding programming in a playful, interactive way. Create your own programs in Scratch, while you are learning how to write good and clear code.
What you'll learn
Programming in Scratch (block based)
Broad programming concepts (loops, variables, data structures)
Coding Course duration:
Duration : 20 Hours .
 Coding Course  Outline: (Age 6-12)
Scratch Coding Course Introduction
Draw a Sprite and Background
Create your first project
Turtle Graphics
Moving and Sensing
Sounds and Graphics
Variables
Broadcast and Receive
Make a Game
Build a multimedia presentation
Benefits of Scratch Coding For Kids Training
Block-based Scratch Coding for kids Training in Dubai is beneficial to start for children. It makes the implementation of logic very intuitive and does not need to learn difficult concepts which the other high-level programming languages require. They can quickly learn how to run programs and unleash their creativity With block programming for kids , a variety of programs, games, animations, and stories can be constructed. Games, though, seem to be the main reason why everyone prefers block coding for kids.
Scratch Coding Preparation Schedules
| | |
| --- | --- |
| Age | Above 6 YEARS |
| Duration |  20 hours |
| Timing | Flexible slots are available |
| Days | Weekdays / Weekends |
| Medium of instruction | English |
| Registration Requirements | A valid Passport copy / national ID card  |
| Teachers/Students Ratio | 1:5 |
Why choose PINNACLE for Scratch Coding For kids Preparation?
Learn through Live Online/Onsite/Blended sessions
Get Scratch coaching & Advice from Professionals ,Work on real-world projects and experience on-the-job training.
Tailor-made training module as per the needs of the customer ,Flexible training schedules.
Sample examples, case studies and variety of sample database for practice
Everything you ever wanted to know about Scratch Coding For Kids Preparation course in Dubai, please click here.