Python Programming Course in Dubai
Learn Python Programming Course with PINNACLE
Looking for the best Python classes near you in Dubai? Well, if you are planning to learn Python Programming in Dubai, PINNACLE Education offers you one of the best Python online & classroom training in Dubai. Upon completion of the course, you will receive KHDA Certification in Python. Python Basics & Python Advanced courses registrations are open now.
For more details on the availability of our Training Program
Course Overview
Python is a general-purpose, versatile, and widespread programming language. It is outstanding as a first language since it is concise and easy to read. It is a valuable language to any programmer as it can be used for various applications right from web development to software development and scientific applications. Even though it is ideal for data science and automation, the Python Programming language can be applied for building a wide range of applications for a variety of platforms.
According to TIOBE, Python is listed among the top programming languages. There are almost a million websites that use Python. Python has equal value among start-ups such as Finance Strategists, mid-size companies such as EP Wealth, blue-chip companies like Google, Netflix, Quora, and Spotify, and government organizations like NASA.
Python's design and libraries provide 10 times productivity in comparison to C, C++, or Java 
| | | | |
| --- | --- | --- | --- |
|   | C++ | Java | Python |
| Ease of Use | Verbose | Verbose | Simpler and dynamically typed |
| Scalability | Platform depended | Cross-platform | Cross-platform |
| Deployment | Android and web application | Big Data | Data Science and Machine learning |
Pre-requisite
Pre-requisites for Level 1 Python (Basic):
You need to have the basic knowledge of computers.
Pre-requisites for Level 2 Python (Advanced):
You need to have the basic idea of Python programming, or you must complete Level 1 of the Python course before taking this level.
Who is this Python Course for?
This course is intended for professionals/students who aim to become experts in the Python field. 
22 (both) hours of hands-on classroom / Online / Blended learning
One-on-one doubt clearing sessions with the Trainer
Comprehensive study handouts
Projects & Quizzes
KHDA attested Python Certification
Python Programming Training Course Schedules
| | |
| --- | --- |
| Course Code | PINCT-005 |
| Duration | 44 hours |
| Timing | Flexible slots are available |
| Language | English |
| Location | Face to Face at PINNACLE premises in Dubai /LIVE Online |
| Certificates | PINNACLE Professional Certificate of Completion , KHDA Certificate |
Pyrhon Programming Certification
PINNACLE Innovation and Education is approved by the Knowledge & Human Development Authority (KHDA), Dubai. All of our courses and trainings have undergone the necessary certification process and are officially acknowledged and approved by the authority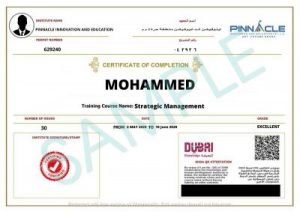 Why Choose PINNACLE ?
Our expert trainers employ the most effective and up-to-date training techniques.
We employ research-based training programs with practical Training Methodology and easy-to-understand approach that guarantees the delivery of extensive knowledge implementation over a short period of time.
After an initial analytical training consultation, we provide personalized training plans to clients for achieving their learning objectives.
We offer flexible face to face, online and blended mode of trainings 
All our course materials are comprehensive and comprise of fundamental and systematic knowledge, practical studies and real-life applications.
Our conducive learning environment and utmost customer satisfaction approach makes every training program a memorable, enjoyable and rewarding learning experience for our clients.
Data Science is one of the hottest professions of the decade, and the demand for data scientists who can analyze data and communicate results to inform data driven decisions has never been greater. This course will start from basics of data analysis in python by going through several useful libraries and their functionalities
Microsoft Excel is the most used spreadsheet program in the world, as well as a strong data visualization and analysis tool created by Microsoft for Microsoft Windows and Mac OS X. It highlights computation, graphic tools, pivot tables and macros for automating repetitive tasks using Visual Basic for Applications.
Microsoft Excel Basic to Advanced Training builds off of the foundational and intermediate knowledge presented in the Microsoft Office Excel 2013/2016 courses to help you get the most of your Microsoft Excel experience
Everything you ever wanted to know about Python Training Course in Dubai, please click here.