15 High-Demand Corporate Training Courses in 2023
Introduction:
As businesses continue to evolve in the fast-paced corporate landscape, the demand for specialized skills and knowledge becomes crucial for professional success. Corporate training courses provide an excellent opportunity for employees and organizations to stay ahead of the curve and meet the ever-changing demands of the industry. In Dubai, a vibrant hub of business and innovation, several high-demand training courses are projected to shape the corporate landscape in 2023. In this blog post, we will explore 15 such courses that are expected to be in high demand among professionals and organizations in Dubai.
1. Leadership and Management Development: 
Effective leadership and management skills are essential for driving organizational success. Training courses focusing on leadership development, strategic management, and team building will be highly sought-after by professionals aiming to enhance their managerial capabilities.


LEARN MORE



2. Digital Marketing and Social Media:
As the digital landscape continues to expand, digital marketing and social media training courses will be in high demand. Professionals seeking to leverage the power of online platforms for brand building, customer engagement, and lead generation will benefit greatly from these courses


LEARN MORE



3. Data Analytics and Business Intelligence:
Data-driven decision-making is becoming increasingly important in the corporate world. Courses that provide training in data analytics, business intelligence, and data visualization will equip professionals with the skills needed to extract valuable insights from complex datasets.


LEARN MORE



4. Project Management:
Project management skills are essential for successful execution of initiatives within organizations. Training courses that focus on project planning, risk management, and stakeholder communication will be highly sought-after by professionals aiming to excel in project-based roles.


LEARN MORE



5. Emotional Intelligence and Mindfulness:
Emotional intelligence plays a significant role in effective communication, collaboration, and leadership. Courses that focus on developing emotional intelligence and mindfulness will help professionals cultivate self-awareness, empathy, and resilience.


LEARN MORE



6. Cybersecurity and Data Privacy:
With the rise in cyber threats and data breaches, organizations are prioritizing cybersecurity. Training courses that provide knowledge in cybersecurity best practices, data privacy regulations, and risk management will be in high demand among professionals aiming to protect organizational assets.


LEARN MORE



7. Sales and Negotiation Skills:
In a competitive business environment, effective sales and negotiation skills are critical for driving revenue and building strong client relationships. Courses that focus on consultative selling, negotiation strategies, and persuasive communication will be popular choices among sales professionals.


LEARN MORE



8. Customer Service Excellence:
Delivering exceptional customer service is a key differentiator for businesses. Training courses that emphasize customer service skills, handling difficult customers, and managing customer expectations will be highly sought-after by professionals working in client-facing roles.


LEARN MORE



9. Change Management:
Organizations frequently undergo changes, and managing them effectively is crucial for success. Training courses that provide insights into change management methodologies, stakeholder engagement, and managing resistance to change will be in demand among professionals involved in organizational transformations.


LEARN MORE



10. Cross-Cultural Communication and Diversity Training:
In Dubai's multicultural environment, effective cross-cultural communication and diversity training are vital for fostering an inclusive workplace. Courses focusing on cultural intelligence, intercultural communication, and diversity awareness will be sought-after by professionals working in diverse teams.


LEARN MORE



11. Agile and Scrum Methodologies:
Agile and Scrum methodologies are widely adopted in project management and product development. Training courses that offer certification in Agile and Scrum will be in high demand among professionals looking to enhance their project delivery capabilities.


LEARN MORE



12. Financial Management and Accounting:
Financial acumen is critical for making informed business decisions. Training courses that provide knowledge in financial management, budgeting, and accounting principles will be popular among professionals aiming to strengthen their financial expertise.


LEARN MORE



13. Time and Stress Management:
In a fast-paced work environment, managing time effectively and reducing stress are essential skills. Training courses focusing on time management techniques, prioritization, and stress reduction strategies will be highly sought-after by professionals seeking work-life balance.


LEARN MORE



14. Presentation and Public Speaking Skills:
Effective presentation and public speaking skills are crucial for influencing stakeholders and delivering impactful messages. Courses that provide training in presentation delivery, storytelling, and managing stage fright will be in high demand among professionals aiming to enhance their communication abilities.


LEARN MORE



15. Executive Coaching and Mentoring:
Executive coaching and mentoring programs are valuable resources for leadership development. Courses that offer training in coaching techniques, mentorship skills, and executive presence will be popular choices among professionals aspiring to reach top-level positions.


LEARN MORE



Conclusion:
In Dubai's dynamic business landscape, staying updated with the latest industry trends and acquiring specialized skills is essential for professional growth. The 15 high-demand corporate training courses mentioned in this blog are projected to shape the corporate training landscape in 2023. By investing in these courses, professionals and organizations can gain a competitive edge and drive success in their respective fields. Whether it's leadership development, digital marketing, data analytics, or any other area of expertise, the right training can unlock new opportunities and propel professionals towards their career goals in Dubai's thriving business environment.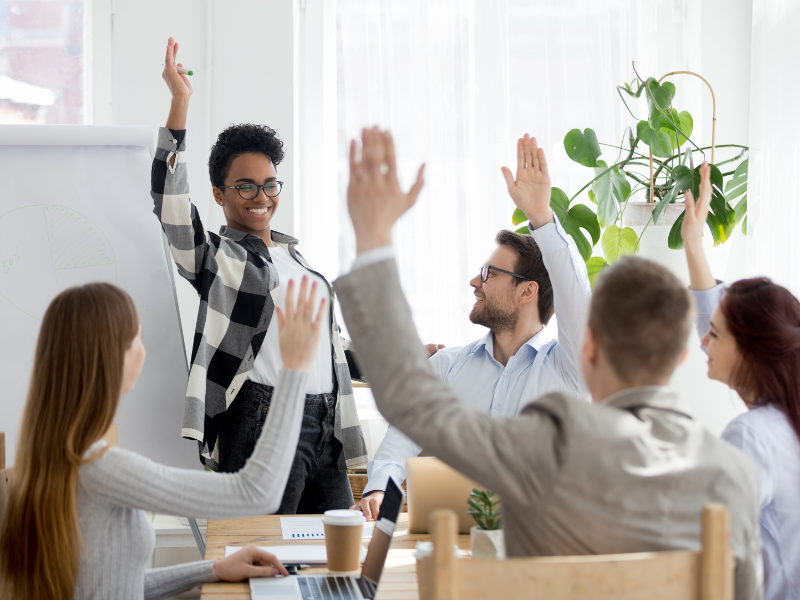 Importance of upskilling the employees 
In today's rapidly evolving business landscape, upskilling employees has become a crucial priority for organizations.
Here are some reasons highlighting the importance of upskilling the employees:
1. Adaptation to Technological Advancements: Technology is advancing at an unprecedented rate, and businesses need to keep up with the latest tools and innovations to remain competitive. By upskilling employees, organizations can ensure that their workforce is equipped with the necessary skills to leverage new technologies and adapt to changing digital environments.
2. Enhanced Productivity and Efficiency: Upskilling employees improves their knowledge and proficiency in their respective roles. This, in turn, leads to increased productivity and efficiency. Employees who are trained in the latest techniques and best practices are more likely to perform their tasks effectively, resulting in improved outcomes and streamlined workflows.
3. Future-proofing the Workforce: Upskilling prepares employees for future challenges and job market demands. By investing in their professional development, organizations can future-proof their workforce by equipping employees with skills that are relevant and in demand. This enables employees to stay ahead of industry trends and remain employable in an ever-changing job market.
4. Employee Engagement and Retention: Providing opportunities for upskilling demonstrates an organization's commitment to employee growth and development. Employees who feel valued and supported in their professional growth are more engaged, motivated, and loyal to their employers. Upskilling initiatives can contribute to higher employee satisfaction and retention rates, reducing turnover and associated recruitment costs.
5. Filling Skill Gaps Internally: Upskilling allows organizations to bridge skill gaps within their existing workforce. Instead of hiring external talent for specialized roles, companies can identify high-potential employees and provide them with the necessary training to take on new responsibilities. This not only saves recruitment costs but also promotes internal talent development and career progression.
6. Innovation and Creativity: Upskilling fosters a culture of continuous learning and innovation within an organization. When employees are equipped with new knowledge and skills, they are more likely to generate fresh ideas, think critically, and contribute to problem-solving. This can lead to improved creativity, innovation, and a competitive advantage in the marketplace.
7. Agility and Adaptability: Upskilled employees are better prepared to handle unexpected challenges and changes in the business environment. By developing a diverse skill set, employees become more agile and adaptable, capable of taking on new roles, responsibilities, and projects as the organization evolves. This flexibility is crucial for business resilience and growth.
8. Employer Branding and Attracting Top Talent: Organizations that prioritize employee upskilling establish a positive reputation as a company invested in employee development. This enhances their employer brand and makes them attractive to top talent in the job market. Candidates are more likely to be drawn to organizations that offer opportunities for continuous learning and career advancement.
In summary, upskilling employees is essential for organizations to stay competitive, foster employee engagement, fill skill gaps, drive innovation, and adapt to changing market dynamics. By investing in the professional growth of their workforce, organizations can build a strong foundation for success and secure a brighter future in an ever-evolving business landscape.
How does an organization benefit by upskilling their employees?
Upskilling employees offers numerous benefits to organizations. Here are some key ways in which organizations can benefit from investing in the upskilling of their employees:
1. Increased Productivity: Upskilling equips employees with new knowledge, tools, and techniques that enhance their productivity. When employees possess the latest skills and expertise, they can perform their tasks more efficiently and effectively, leading to increased output and improved overall productivity within the organization.
2. Improved Employee Performance: By providing training and development opportunities, organizations can enhance the performance of their employees. Upskilling helps employees stay up-to-date with industry trends, best practices, and technological advancements, enabling them to perform their roles with greater proficiency and competence.
3. Enhanced Employee Engagement: When organizations invest in the growth and development of their employees, it fosters a sense of value and engagement. Upskilling initiatives demonstrate that the organization is invested in its employees' professional growth, leading to higher levels of job satisfaction, motivation, and loyalty. Engaged employees are more likely to contribute positively to the organization's success.
4. Talent Retention: Upskilling plays a vital role in talent retention. Employees who are given opportunities to upskill are more likely to stay with the organization, as they feel valued and supported in their career progression. This reduces turnover rates, lowers recruitment and onboarding costs, and helps maintain a stable and experienced workforce.
5. Competitive Advantage: In today's rapidly changing business environment, organizations need to stay ahead of the competition. Upskilling employees gives organizations a competitive edge by equipping them with the latest skills and knowledge. This enables organizations to innovate, adapt to market changes, and deliver higher quality products or services.
6. Succession Planning: Upskilling allows organizations to identify and groom future leaders from within their existing talent pool. By investing in the development of high-potential employees, organizations can build a pipeline of capable individuals ready to take on leadership roles, ensuring a smooth transition and continuity in key positions.
7. Agility and Adaptability: Upskilled employees are more agile and adaptable to change. They can quickly learn and apply new skills, technologies, and processes, enabling the organization to respond effectively to market shifts, industry trends, and evolving customer needs. This agility helps the organization remain competitive and resilient in dynamic business environments.
8. Innovation and Growth: Upskilled employees bring fresh ideas, perspectives, and innovative thinking to the organization. By fostering a culture of continuous learning, organizations encourage employees to think creatively, problem-solve, and contribute to innovation initiatives. This fuels the organization's growth, drives innovation, and allows for the development of new products, services, or processes.
9. Improved Customer Satisfaction: Upskilling employees can have a direct impact on customer satisfaction. When employees are equipped with the necessary skills and knowledge, they can deliver better customer service, provide accurate information, and effectively address customer needs. This leads to higher customer satisfaction levels and strengthens customer loyalty.
10. Employer Branding: Organizations that prioritize employee upskilling and professional development establish themselves as attractive employers. This enhances their employer brand and makes them more appealing to top talent in the job market. Upskilling initiatives can help attract and retain high-performing individuals who are eager to grow and develop their careers.
In conclusion, upskilling employees brings numerous benefits to organizations, including increased productivity, improved performance, enhanced employee engagement and retention, a competitive advantage, succession planning, agility, innovation, and growth. By investing in their employees' professional development, organizations create a positive work culture, drive organizational success, and position themselves as employers of choice in the market.
How do employees benefit from Continuous Professional Development Training?
Continuous professional development (CPD) training offers numerous benefits to employees. Here are some key ways in which employees can benefit from engaging in CPD:
1. Skill Enhancement: CPD training provides opportunities for employees to acquire new skills, knowledge, and competencies. It helps them stay updated with the latest industry trends, advancements, and best practices in their field. By expanding their skill set, employees become more versatile, adaptable, and valuable to their organization.
2. Career Advancement: Engaging in CPD training can open doors to new career opportunities and advancement. By acquiring additional qualifications, certifications, or specialized skills, employees enhance their marketability and increase their chances of promotion or transitioning to more challenging roles. CPD training equips employees with the tools they need to achieve their career goals.
3. Increased Confidence: CPD training boosts employees' confidence in their abilities. As they acquire new knowledge and skills, employees gain the confidence to take on complex projects, handle challenging tasks, and overcome professional obstacles. Increased confidence contributes to higher job satisfaction and motivation, leading to improved performance and productivity.
4. Professional Networking: CPD training often involves interaction with professionals from diverse backgrounds. This presents opportunities for employees to expand their professional network, establish valuable connections, and learn from peers and industry experts. Building a strong professional network can lead to collaborative opportunities, career guidance, and exposure to new perspectives.
5. Stay Relevant and Future-Proof: Industries are constantly evolving, and technological advancements can disrupt traditional ways of working. CPD training helps employees stay relevant and future-proof their careers by keeping them informed about emerging trends, tools, and practices. It enables them to adapt to changing industry demands and remain employable in a dynamic job market.
6. Personal Growth and Satisfaction: CPD training contributes to personal growth and self-improvement. It provides employees with opportunities for self-reflection, self-assessment, and self-development. By continuously learning and upgrading their skills, employees experience a sense of personal satisfaction, fulfillment, and a desire for lifelong learning.
7. Job Security: In a competitive job market, employees who actively engage in CPD training demonstrate their commitment to professional growth and development. By consistently improving their knowledge and skills, employees become valuable assets to their organization. They are more likely to retain their positions and have increased job security, even during times of organizational change or economic uncertainty.
8. Enhanced Performance and Job Satisfaction: CPD training equips employees with the tools and knowledge they need to perform their roles more effectively and efficiently. This leads to improved job performance, increased productivity, and a sense of accomplishment. Employees who are engaged in continuous learning are also more likely to experience higher levels of job satisfaction and overall well-being.
9. Personal Branding: Engaging in CPD training allows employees to build their personal brand and professional reputation. By acquiring specialized skills and knowledge, employees differentiate themselves from their peers, positioning themselves as experts or thought leaders in their field. This can lead to increased recognition, respect, and career opportunities.
10. Work-Life Balance: CPD training often emphasizes work-life balance, stress management, and personal well-being. Employees who participate in CPD training gain insights and strategies for maintaining a healthy work-life balance, managing stress, and prioritizing their well-being. This contributes to their overall quality of life and satisfaction both inside and outside of work.
In summary, continuous professional development (CPD) training offers employees numerous benefits, including skill enhancement, career advancement, increased confidence, professional networking, staying relevant, personal growth, job security, enhanced performance, job satisfaction, personal branding, and a better work-life balance. By actively engaging in CPD, employees invest in their professional growth, enhance their employability, and set themselves up for long-term success and fulfillment in their careers.
How does PINNACLE provide
Continuous Professional 
Development to your employees?
Continuous Professional Development is no less than an investment with the best
returns for the organization. It is equally rewarding for the employer and the
employee in terms of productivity, retention, and bonds. Train your employees at
PINNACLE and help them get  future ready.
PINNACLE Education is committed to providing
your company with the best and most comprehensive Corporate Training Solutions
available in the UAE. We tailor our trainings to address your problems and satisfy the
training requirements of your workforce. We provide personalized and cost-effective
courses that can be delivered in-person or virtually. We also have a multitude of
experienced trainers who have been accredited by KHDA and other authorities to
ensure that effective training is delivered through real-world business settings. The
pre- and post-assessments are aimed to determine the knowledge gaps that were
covered during the training sessions and to offer further improvement initiatives.
Remember that a pond stays stagnant and dries up whereas a river keeps flowing
to reach the massive sea
Any time is a good time to begin upskilling the employees in an organization.
Hurry up and register now at PINNACLE to get your employees future-ready!