GMAT Coaching Classes in Dubai
Crack GMAT in 1st attempt! Best GMAT Exam Preparation in Dubai,Sharjah
The Graduate Management Admission Council designed the Graduate Management Aptitude Test (GMAT), a computer-adaptive test (GMAC). The GMAC is a global non-profit organization comprised of some of the world's best and most prestigious management schools and business schools.The GMAT is an exam used to assess a student's readiness for an MBA or management school. The GMAT is a trustworthy test that lets the school/university determine whether the individual is the right match for the course by measuring several abilities required in business and management studies (such as problem-solving, systematic and analytical reasoning, creative writing, and so on). As a result, more than 7000 programs are provided by 2300 institutions and organizations in 110 countries.
ENQUIRE NOW
For more details on the availability of our Training Program
| Name of the Exam | Graduate Management Admission Test |
| --- | --- |
| Official Website | https://www.mba.com/exams/gmat |
| Exam Mode | Computer-Based |
| Number of Sections | Four |
| Duration | 3.5 hours |
| Validity | 5 Years |
| Score Range | 200 – 800 |
| | |
GMAT scores range from 200 to 800.When you choose to have the two optional eight-minute breaks, the GMAT exam will last 3 to 3.5 hours. Students have the option of scheduling their tests in whatever order they like. Before attempting the GMAT exam in 2022, review the following guidelines or simple criteria that must be followed during the GMAT test attempt. The test adapts to the candidate's skill level. The first set of questions is moderately complex.Depending on how well the applicant answers the previous questions, the difficulty level rises or falls. The level of difficulty of the questions rises or gets up if the applicant continues to respond appropriately to questions. This procedure is repeated until the candidate has answered all of the questions in the exam segment. All questions must be answered, and once submitted, the answer cannot be modified. The exam consists of 91 questions and must be completed in 3.5 hours. Analytical Writing Assessment, Integrated Reasoning, and Quantitative and Verbal Portions are the four main sections of the exam.
GMAT Eligibility Criteria
To take the GMAT, you must be at least eighteen years old.

Some management programs demand a particular number of years of experience, while others do not.

The GMAT eligibility requirements for admission may differ for each MBA or management program.

To take the GMAT, you must meet no special requirements. Because the exam is utilized for admission to a variety of MBA/management schools worldwide, you'll want to make sure you're eligible for the Mba course you're applying to.
The GMAT requires parental permission for students within 13 to 17 years of age. For GMAT eligibility criteria, there is no maximum age limit.
Whenever you enroll in the GMAT, be sure you meet all of the other requirements for admission to the program of your choice.
The GMAT result is used for admittance into postgraduate management programs in India and worldwide.
Hence, it is recommended that university senior year students and those who have completed college take the test
Countries and territories that accept the GMAT
The GMAT is accessible in 113 countries, including all continents except Antarctica, except for Antarctica. One of the most compelling reasons for taking the GMAT is that it is recognized in nearly every country, area, and territory. It is highly dependable, and it is a must-take exam for anyone interested in business or management. As a result, if you want to attend one of its B-Schools or management-oriented academic institutions, taking the GMAT test is the best option.
 GMAT Score Validity
The GMAT score is valid for five years. Students enrolled in undergraduate studies can take the GMAT as early as their first year.
You can retake the GMAT as many times as possible until you achieve your goal score.
While retaking the GMAT exam, you should know a few things.
The GMAT exam can be retaken up to five times per year.
Before starting or re-applying for a further GMAT test, the person must wait 16 days.
Your whole GMAT exam score will be displayed on their web page, which can be viewed by B-schools if shared.
GMAT Test Schedule  for 2022
The GMAT features a customizable test schedule, allowing candidates to set a session based on personal preferences.
You can apply for the GMAT both online and offline.You can take the GMAT at any time of the year because it is provided all year. It is entirely up to you to apply for the GMAT on a day appropriate for you, provided that slots for your desired date and GMAT exam location are available.
Applicants to business schools should take the GMAT well before the registration process for their desired management schools begins. To be cautious, you should take the GMAT for at least one month before applying to business school.
When you sign up for the exam, you'll be able to see whether there are any GMAT slots available at your preferred test location.
GMAT Test 2022 Registration
GMAC, the official website for the GMAT exam, requires candidates to create an account. Registration can be done online.
Candidates can register online by filling out a form, paying the costs, and receiving a confirmation of their registration.
Candidates can also register for the exam by calling the GMAT helpline or lettering.
Though that is not the most convenient option to apply again for the GMAT exam because fees must be paid by check or money order, there is a USD 10 processing fee.
Find out how to apply for the GMAT (the registering process, GMAT fees, and so on) and when the optimum time to take the GMAT is.
The GMAT Exam Schedule for 2022
Exam dates for the GMAT might be changed. You can prepare, enroll, and arrange your GMAT exam on the dates that suit you best. The online approach allows you to register for or plan your GMAT exam dates. You can also call GMAT customer service to schedule your exam. The GMAT is given five times every year. If you want to take the GMAT 2022 exam, go to their official website and pick an exam day that suits you.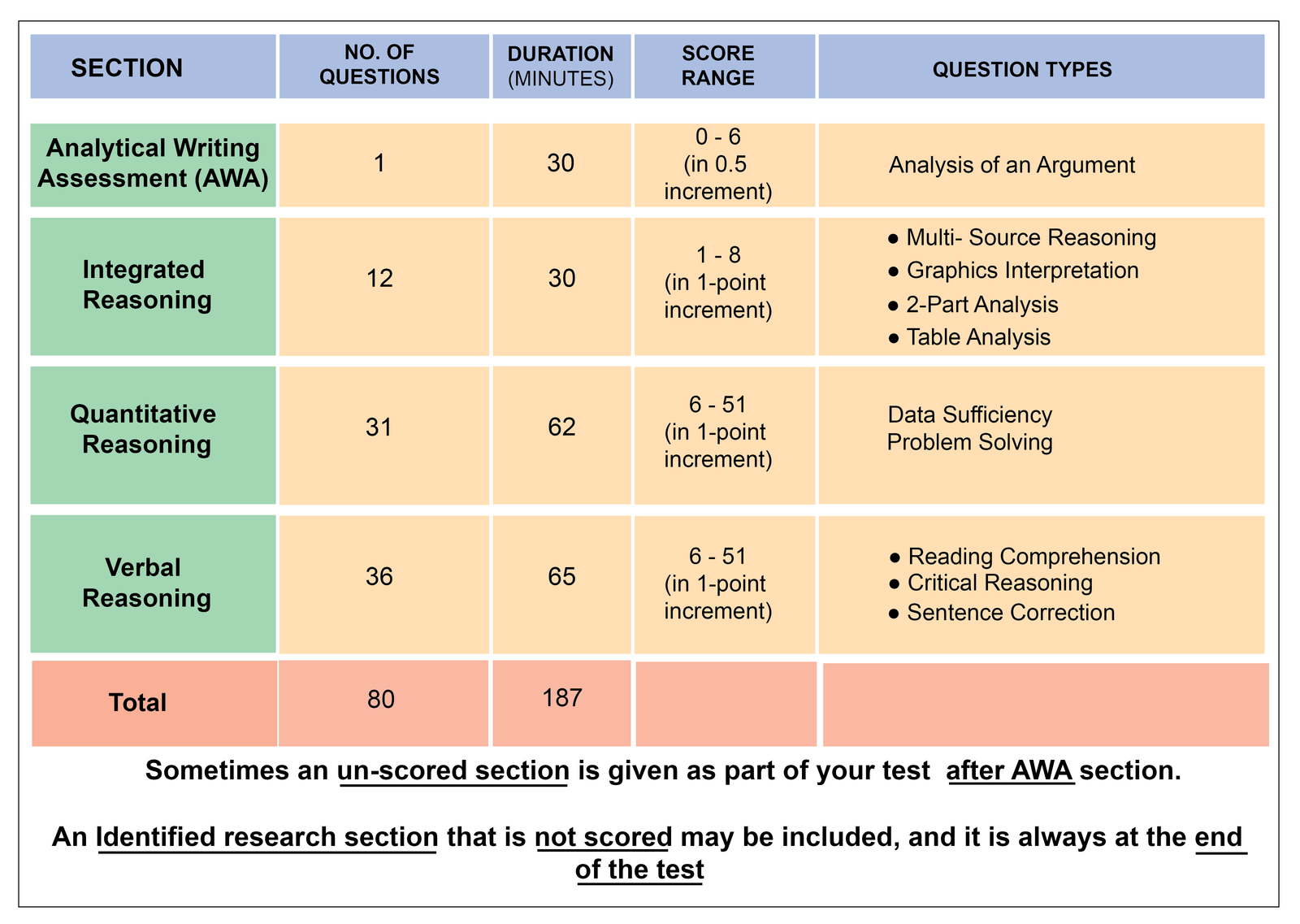 Analytical Writing Assessment
The Analytical Writing Assessment, or AWA portion, evaluates your thinking abilities. You must construct the reasoning behind a statement and showcase excellent English writing skills by answering the questions in this part. 

The duration is 30 minutes.

Consider your choices carefully and share your thoughts with others. 

You'll be expected to assess a particular argument and constructor to compose a counterargument.

General knowledge, business, and a range of world-of-interest issues are covered in this 30-minute segment.
Integrated Reasoning
The Integrated Reasoning component of the exam evaluates one's analytical abilities.
The duration is 30 minutes.
To assess your chance to analyze data, you'll be given a variety of sources to choose from, including test passages, images, or a mix of the two. The questions will require you to evaluate and provide a rationale.
You will be given a source in the form of a graphic interpretation to understand the data and develop a solution.
Two-part analysis: You will be given a question that needs a two-part study. You'll have to figure out how to fix it and understand the results.
Analyze the Table: A list of information will be provided as a reference. You'll need to organize the information and sort it.
Quantitative Reasoning
Questions in the Quantitative Reasoning portion measure your mathematical abilities. This part asks about basic equations and connections in arithmetic, geometry, or algebra.
The duration of this section is 62 minutes.
Problem-solving: You will be required to respond to fundamental math-related problems. This part will evaluate your math abilities.
Data Sufficiency: Data will be made available. It would be best to determine whether the data presented is adequate to answer the question, which consists of two statements and reach a decision.
 Verbal Reasoning
Questions in the Verbal Reasoning section assess your English reading, composing, or making solid abilities. To measure your abilities, you will be given a list of 65 multiple-choice questions.
The duration is 65 minutes long.
Reading and Comprehension: A passage on a specific topic will be presented. You must read the multiple-choice questions (or multiple-choice questions) and react accordingly. You must determine whether a paragraph influences, enhances, or undermines the supplied argument based on a short text excerpt (short-text passage).
 Calculating the GMAT Score: 

The average GMAT score is between 400 and 600. The GMAT has a minimum score of 200 and a maximum score of 800. The following factors go towards determining the GMAT score:

Band Level: 0 to 6 Analytical Writing Assessment (Independent Scoring System)
      Combined Reasoning: 1 to 8 on a scale of 1 to 8 (Independent Scoring System)
      Level of quantification: 6 to 51
     The verbal-band level ranges from 6 to 51.
    Discover the ins and outs of GMAT scores.
Scores on the GMAT in 2022:  It's a computerized, adapted test, and the results are accessible three weeks after you take the test. The preliminary score is provided as soon as the exam is completed.
Why Choose PINNACLE for GMAT Test Preparation?
We make it easier for you to accommodate GMAT Prep classes around your busy work schedules with improved flexibility and multiple options like online GMAT Prep Course classes /group classroom training/ private one-on-one training/blended learning. You can also select between group classes and one-on-one private tutoring sessions. Private classes can be organized according to the trainers' and your availability, making them more convenient for you.
Best proven GMAT Test Strategies: The proficient GMAT trainers at PINNACLE always strive to come up with new tips and strategies to make concepts clear and easy to understand. Proficient GMAT Tutors: PINNACLE has highly qualified GMAT trainers for Verbal and Quant sections with 99 percentile scores who are updated with latest trends and effective teaching methods. Efficient Consultants for College Admissions: PINNACLE's educational consultants assist you in creating an application road map and guides you for preparing your CV and interview.