Summer is here!
Parents, hear us out. This is the perfect time to ensure that you are paying attention to your child's strengths rather than their weaknesses. Moreover, a well-planned activity-filled summer break can play a giant part in your child's self-esteem. It is imperative that parents understand why this is important.
Focusing on children's weaknesses can cause summer activities to feel like a punishment instead of a recreational experience. Consequently, this can be harmful for your child. Ideally, we encourage you to nurture skills such as creativity, self-discipline and restraint. Additionally, these are some of the most crucial skills children use throughout their academic years. Furthermore, presenting such abilities in an enjoyable way will have a good, long-term impact on a child's academic success.
Parents generally find activities that keep their child occupied and employ skills that he/she already has. Using certain skill-sets is important. However, free play promotes brain development more than any other activity, particularly throughout the preschool and primary school years.
As a result, kids must engage in day-to-day, adult-supervised free play. This fosters the growth of creative skills and leads to improved brain function. In addition, children who are struggling with academics may require activities that involve math, literature, or other subjects. However, allowing those youngsters to enjoy free play as well will result in a better attitude and overall academic success.
Finding the correct summer activities might also aid in your child's emotional development. Furthermore, summer break is the best time to help children improve their skills, pursue their interests and interact with their peers. In short, children must get an opportunity to do all of these things while having fun and making new friends.
Summer Fest 2021
PINNACLE is happy to kick start your child's summer fun with exciting games, interesting activities and lively dancercise sessions!
Summer Fest 2021 will take place from July 4th to August 26th for children aged 6 to 14 years.
Face-to-face and online classes will be available. In addition, PINNACLE offers transportation for children attending face-to-face sessions.
We are offering the following fun-filled courses for children:
Arts & Crafts
Little Engineers
Painting
Public Speaking
Our courses foster important skills such as –
Creativity
Communication
Innovation
Team Building
Problem Solving
Critical Thinking
Collaboration
Additionally, PINNACLE is offering 3 action-packed STEM courses that will incorporate the use of cutting-edge STEM technology and inventive, hands-on projects!
Robotics for Kids
Level 1: Machine WIZ Introduction to programming – LEGO MINDSTORMS EV3
Level 2: 3G Robotics
Level 3: Advanced Robotics
Coding with Arduino
Python for Kids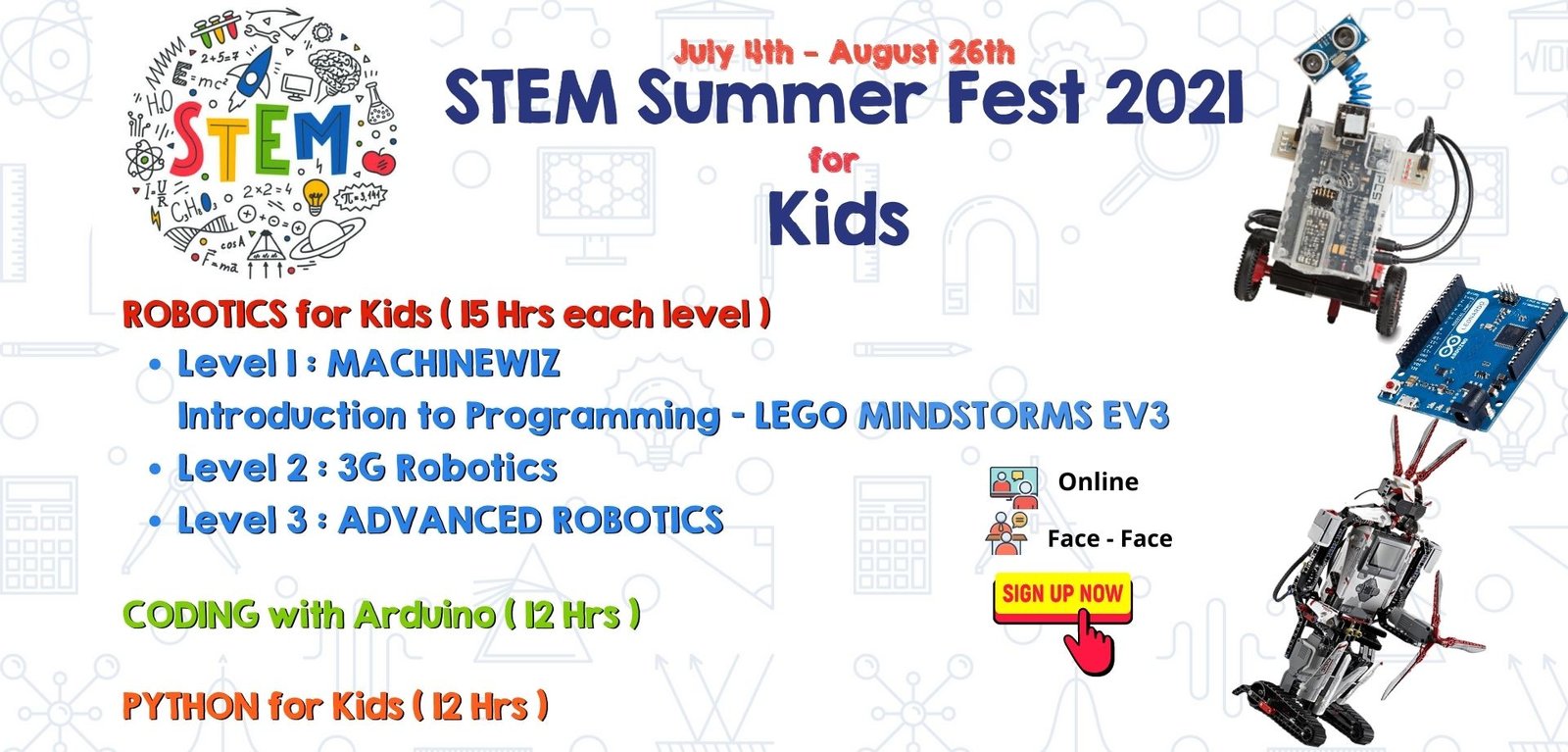 By the end of their course, children will have the opportunity to demonstrate their newly learned skills at our 'Summer Fest Showcase'. There will be competitions, a judging panel and exciting prizes for the winners. In addition, parents are welcome to attend the event and appreciate their child's accomplishments.
In conclusion, we urge you to enroll your child in our dynamic courses to develop useful and lifelong 21st century skills.
What are you waiting for?
Register now to let your child's summer break come alive!