Web Development Course For Your Kids!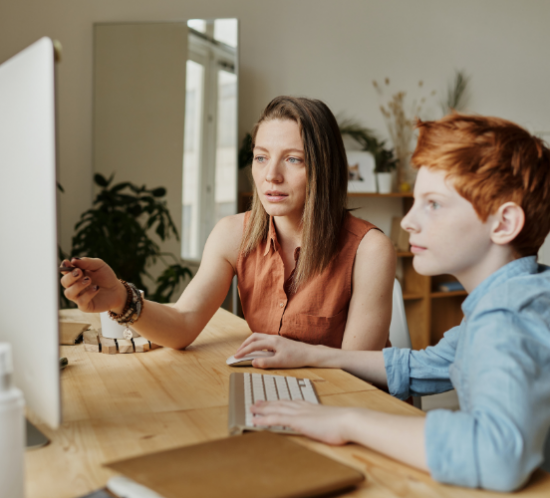 Web advancement is the structure and maintenance of sites; it's the work that occurs in the background to make a site look extraordinary, work quick and perform well with a consistent user experience. With Kids Web Development, you can turn their energy for their gadget or PC games into a learning opportunity!
Website developers manage the HTML and CSS for the most part to create their web page, and they can practice as UX or UI designers, concentrating in either on the client experience or the UI. Designers manage the progression of the pages, just as further developing cooperation's on the site. Fundamentally, they work in the back-end to create site pages as we probably are aware them today.
ENQUIRE NOW
For more details on the availability of our Training Program
It Gives Them Confidence
Beginning something new can generally be a test at whatever stage in life. On the off chance that we can defeat those difficulties to succeed, it imparts certainty and drive. Acquiring web advancement abilities resembles mastering another dialect. To succeed, you need to commit errors. On the off chance that you can gain from these errors, it improves you at what you are doing.
Advantages of Web Development for Kids: They Learn Creativity
Being the expert of your own undertaking is consistently fun. You can make anything you desire to. Regardless of whether that is an application or a game, or a site that gives something helpful, there are unlimited opportunities to be inventive when figuring out how to code. Site improvement for youngsters is a way for them to allow their creative mind to go out of control and think of a genuinely new thing and energizing that benefits them and people around them.
They Learn Transferable Skills
The significance of web improvement abilities for youngsters ought not to be thought little of when showing them significant fundamental abilities. The difficulties they face when figuring out how to code can assist them with learning flexibility and the capacity to think inventively. These are for the most part abilities that can be utilized for their other everyday schedule assist them with succeeding.
Web Development for Kids Teaches Them Problem Solving
Numerous youngsters learn by doing. There is a gigantic development in schooling for project-based learning. This technique for learning shows youngsters how to utilize the hypothesis they pay attention to in class. Simply paying attention to an educator address isn't that compelling for holding data. On the off chance that a kid can effectively utilize what they have realized for a task that energizes them, they are considerably more prone to recollect the abilities.
Kids Learn Communication Skills
One more of the significant abilities mastering code shows kids is correspondence. They gain proficiency with the craft of imparting adequately. They need to train a PC explicitly with the end goal for it to play out the necessary errand. Coding helps children to be exhaustive and exact.
Web advancement for youngsters can be both fun and energizing. They figure out how to construct things, just all in all host of delicate and hard abilities.
Who is This Course For?
Children who need to construct sites or figure out how to plan things or gain proficiency with a few key programming should take this course
Kids matured 10 or above should take this course
Children who need to learn Wordpress, Bootstrap, Canva, Python or Weebly should take this course
Prerequisite
Basic Knowledge to use computers and browsers
What Will You Learn?
Kids understand the role of CSS in web development, the different roles for HTML and CSS, know how to use text andbackground colors; understand RGB, know the types of fonts, and how to set up outside fonts from Google Fonts.
Create a fundamental page with HTML
Create sites which look stunning on telephones, tablets, workstations and work areas with bootstrap
Create basic yet proficient sites with weebly
Understand HTML, CSS, Wordpress, Bootstrap, Canva, Python and Weebly
Programme complex code with Python
Make a website page look lovely with CSS
Build a site with wordpress
Build a Blog and a Store with wordpress
Style the shades of a website page with CSS
Web Development Our Training course Schedules
| | |
| --- | --- |
| Age | Kids aged 10 or above could take this course |
| Duration | 16 hours |
| Timing |  In-site Flexible slots are  available |
| Days | Weekdays / Weekends |
| Medium of instruction | English |
| Registration Requirements | A valid Passport copy / national ID  |
| Teachers/Students Ratio | 1:5 |
Web Development  Course Certification
PINNACLE Innovation and Education is fully licensed by the KHDA authority. All of our courses and trainings have undergone the necessary certification process and are officially acknowledged and approved by the authority.
Why Choose PINNACLE For Your Web Development Course ?
Blend of in-person and online sessions
Customized Schedule as per the convenience of student and faculty
Exclusive attention and assistance from professionally qualified trainers
Useful tips on time management Numerous full-length & sectional tests designed to enhance your accuracy
Comprehensive Study material
Customized in-depth mock test analysis
Access to Online Student Portal with practice materials
Detailed study plan customized to your target score and exam date
Intensive course with regular testing