Implementing and Administering CISCO Solutions (CCNA) Course in Dubai
PINNACLE Education Offers Classroom & Online Implementing and Administering CISCO Solutions (CCNA) Course
Are you looking for CCNA Course in Dubai? Then you have come to the right place.
The Cisco Certified Network Associate (CCNA) course provides a wide spectrum of fundamental skills for all IT professions. You'll learn how to install, run, configure, and validate simple IPv4 and IPv6 networks using a mix of lecture, hands-on labs, and self-study. Configuring network components such as switches, routers, and wireless LAN controllers, as well as managing network devices and detecting basic security threats are all covered in this course. You'll also learn about network programmability, automation, and software-defined networking in this course.
For more details on the availability of our Training Program
Where can I get the best CCNA Course in Dubai?
PINNACLE offers an extensive course in Implementing and Administering Cisco Solutions (CCNA) in Dubai and across the UAE. This course is suitable for those who are interested in getting their CCNA certification. Joining this course will enable you to be prepared for the CCNA exam. Associate-level IT professionals can be prepared with expertise in network security, automation, and programmability with this CCNA course. Passing the exam enables you to earn CCNA certification in Dubai. 
Start Cisco Command-Line Interface (CLI)
Detect how a switch operates
Conduct Basic Switch Configuration
Execute the Initial Switch Configuration
Analyze TCP/IP Applications
Configure an Interface on a Cisco Router
Configure and Verify Layer 2 Discovery Protocols
Execute an Initial Router Configuration
Configure Default Gateway
Analyze Packet Forwarding
Troubleshoot Switch Media and Port Issues
Troubleshoot Port Duplex Issues
Configure Basic IPv6 Connectivity
Configure and Verify IPv4 Static Routes
Configure IPv6 Static Routes
Execute IPv4 Static Routing
Apply IPv6 Static Routing
Configure VLAN and Trunk
Troubleshoot VLANs and Trunk
Configure a Router on a Stick
Execute Multiple VLANs and Basic Routing Between the VLANs
Configure and Verify Single-Area OSPF
Configure Static NAT
Configure Dynamic NAT and Port Address Translation (PAT)
Apply PAT
Log into the WLC
Supervise the WLC
Configure a Dynamic (VLAN) Interface
Configure a DHCP Scope
Configure a WLAN
Determine a Remote Access Dial-In User Service (RADIUS) Server
Analyze Management Options
Analyze the Cisco DNA™ Center
Configure and Verify NTP
Configure System Message Logging
Build the Cisco IOS Image Backup
Promote Cisco IOS Image
Configure WLAN Using Wi-Fi Protected Access 2 (WPA2) Pre-Shared Key (PSK) Using the GUI
Secure Console and Remote Access
Allow and Limit Remote Access Connectivity
Secure Device Administrative Access
Configure and Verify Port Security
Carry out Device Hardening
Target audience
This course is for everyone who wants to get their CCNA certification. All support technicians involved in the basic installation, service, and verification of Cisco networks will benefit from this course.
The material in this course is suitable for individuals with the following designations:
Entry-level network engineer
Network administrator
Network support technician
Help desk technician
Prerequisites
Basic computer knowledge
Basic knowledge of PC operating system navigation
Basic knowledge Internet usage
Basic understanding IP addressAlthough there are no formal prerequisites for CCNA certification, you are required to ensure that your knowledge of the exam topics is good
CCNA Course Objectives
 Recognize the parts of a computer network; describe its basic properties
CCNA Training course Details
| | |
| --- | --- |
| Duration | 25 hours |
| Timing | Flexible slots are available |
| Language | English |
| Location | Face to Face at PINNACLE premises in Dubai /LIVE Online |
| Certificates | PINNACLE Professional Certificate of Completion , KHDA Certificate |
CCNA Training Certification
PINNACLE Innovation and Education is approved by the Knowledge & Human Development Authority (KHDA), Dubai. All of our courses and trainings have undergone the necessary certification process and are officially acknowledged and approved by the authority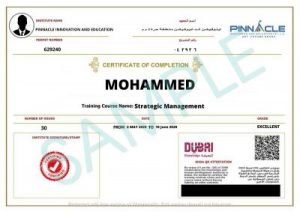 In-House and Live-Online Training Options
If you are interested in taking this training program for you and your colleagues in your organization, at your premises or at a venue of your choice or online, you can enquire now and we shall offer you customized and effective IN-HOUSE or LIVE
ONLINE training solutions to meet your training needs
Why choose PINNACLE for your CCNA training?
Our expert trainers employ the most effective and up-to-date training techniques.
We employ research-based training programs with practical Training
Methodology and easy-to-understand approach that guarantees the delivery of extensive knowledge implementation over a short period of time.
After an initial analytical training consultation, we provide personalized training plans to clients for achieving their learning objectives.
We offer flexible face to face, online and blended mode of trainings
All our course materials are comprehensive and comprise of fundamental and systematic knowledge, practical studies and real-life applications.
Our conducive learning environment and utmost customer satisfaction approach makes every training program a memorable, enjoyable and rewarding learning experience for our clients.