Master SAP FICO With PINNACLE!
SAP FICO is the Financial Accounting and Management Accounting module in SAP ERP. In FICO, FI stands for financial accounting and CO for controlling. SAP FICO module is highly resilient and covers business process you across in diverse industries. It's the most extensively used module in SAP at present. PINNACLE is offering SAP FICO training in Dubai, Abu Dhabi and online rest of the world for those who are willing to complete this course and have a successful career. Our SAP FICO course is specifically designed keeping in mind the beginners, intermediate and the advanced users.
For more details on the availability of our Training Program
Therefore, whatever may be your knowledge on this SAP FICO course, PINNACLE Education will reach your needs. Our training on SAP FICO courses in Dubai, Abu Dhabi and online rest of the world will assist you in reassessing and examining the financial situation of a company. You can observe the operations happening inside of a company by scheduling and creating of reports. In addition, our SAP FICO training course will allow you to explore solutions for accounting requirements. You get many benefits if you learn SAP FICO course from our institute. You will get to know about them if you visit our office in Dubai, Abu Dhabi and online to meet our certified experts.
Freshers with BBA or B.com and MBA background can attend this course training.
CA, ACCA, CMA, CPA can take part in this course
If you are currently working as an accountant, then you can also join this course.
Introduction to SAP FICO
Build a Company and assign to Company Code
How to Build Chart of Accounts in SAP
Posting to General Ledger
How to Reset Cleared Items in SAP
How to Maintain Exchange Rates
Building Financial Statement Version
Classify Posting Period Variant
How to post a Sales Invoice, Incoming Payment, and Foreign
Currency invoice
Build Cost Center
Document Type And Number Ranges
Overview of Accounts Receivable
Alter Customer Documents
One Time Custome
Posting Rounding Differences
Automatic Payment Run
Credit Control for the Customer
How to Block or Delete a Vendor
Purchases Returns – Credit Memo
Outgoing Payments
Opening And Closing Posting Periods
Automatic Payment Run
Overview of Accounts Payable
Profit Center Standard Hierarchy
Important Tables in CO Module
prerequisites
You will receive a pre-course questionnaire , which should be completed and sent to us a week in advance . It will help us adjust the course to your needs.
Basic Knowledge of Accouniting is required
Training Methodology
All our Training Programs include the most practical and effective adult teaching and learning techniques. Our research-based training design, development, planning and execution has given us true experience that only a combination of these methods work well to guarantee utmost learning outcomes for our valued participants and clients
Basic learning of General Ledger, SAP, and ERP.
Profound perceptive of Accounts receivable, payable, and reports.
Learning the Step by step guide to building vendor master data in Systems, Applications, Products in data processing.

Accomplish a real-time project on basis of the complete course curriculum.
Getting to identify the concerned jobs and trends in the industry.
Get an outline on the building of consumer account groups.
SAP FICO
Training course Details
| | |
| --- | --- |
| Course Code | PINCT-014 |
| Duration | 30 hours |
| Timing | Flexible slots are available |
| Language | English |
| Location | Face to Face at PINNACLE premises in Dubai /LIVE Online |
| Certificates | PINNACLE Professional Certificate of Completion , KHDA Certificate |
SAP FICO Training Certification
PINNACLE Innovation and Education is approved by the Knowledge & Human Development Authority (KHDA), Dubai. All of our courses and trainings have undergone the necessary certification process and are officially acknowledged and approved by the authority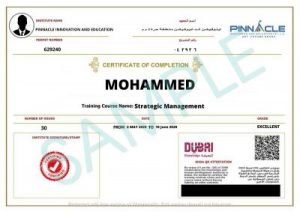 In-House and Live-Online Training Options
If you are interested in taking this training program for you and your colleagues in your organization, at your premises or at a venue of your choice or online, you can enquire now and we shall offer you customized and effective IN-HOUSE or LIVE
ONLINE training solutions to meet your training needs
Why choose PINNACLE for your SAP FICO training?
Our expert trainers employ the most effective and up-to-date training techniques.
We employ research-based training programs with practical Training Methodology and easy-to-understand approach that guarantees the delivery of extensive knowledge implementation over a short period of time.
After an initial analytical training consultation, we provide personalized training plans to clients for achieving their learning objectives.
We offer flexible face to face, online and blended mode of trainings
All our course materials are comprehensive and comprise of fundamental and systematic knowledge, practical studies and real-life applications.
Our conducive learning environment and utmost customer satisfaction approach makes every training program a memorable, enjoyable and rewarding learning experience for our clients.